Tessa D'Agostino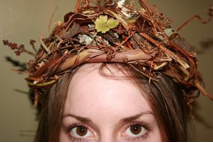 The dances we exhibit within our travels here on this Earth move faster than our perceptions in time. It is important to acknowledge the steps between all levels of life, the spaces in between, and the ever changing growth between ourselves and everything surrounding us at all moments continued. We all wear a crown of infinite growth. Here is mine…
Native to Cape Cod and graduate of the Museum School of Fine Arts Boston and Tufts University, I actively pursue a variety of art mediums as well as artistic outlets in the Cape Cod area. I enjoy navigating through the creative process by the use of unrecognizable shape and form in order to birth a finished piece.
The foundation of my work is strongly based on the constant flow of interconnectedness and how that ongoing bond potentially affects everything. I have a strong relationship with nature which I strive to define within myself through my work.
It is this process that also enables me to explore that spiritual connection with the Earth in hopes of understanding the overall link between man and nature. In theory and personal fascination, man and nature are one combined organism as well as their interconnectedness with the universe. Essentially this concept is endless in itself.
My most recent works have grown to reflect this concept through paintings, sculpture, writing, mixed media and my jewelry line, The Spiral Stone of Cape Cod. Just as all things on this Earth consistently evolve, so does my work.
To see more of my work and to read my personal writings and studies on such concepts please visit my website www.TessaDAgostino.wordpress.com
I also teach a variety of private and public classes. To learn more about classes being offered and my teaching methods please visit www.MakeInsideArt.com
I am also the Art Director for The Cape Cod Collaborative Arts Network and the artistic lead for the art programs and opportunities they implement in our community for individuals living with disabilities. You'll find over 100 participants in our program exhibiting and selling their art work in a HyArts Shany this June 6th, 7th & 8th. Click here for more information: http://www.capecodcan.com/
In this issue, Tessa and Nicola Burnell write about Origins of Existence