Bourne
Christmas on Main Street, Elm Street,
Swan Lane and Tihonet Village!
Saturday December 10, 2011
12:00 PM TO 5:00 PM
Parade starts at 3:30pm
Tree lighting and blessing at 4.
Sponsored by the Warham Village Association. Find more information here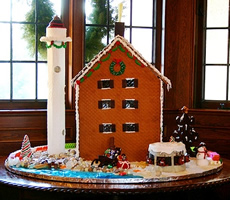 Brewster Gingerbread Cake
Brewster
Brewster For the Holidays
December 2, 3, 4 2011
Enjoy an old fashion town celebration complete with concerts, parties, music, food and family fun. For more details, go here.
Raffle tickets will be sold at several local businesses. Take a chance and win the basket full of gift certificates donated by Brewster businesses, valued at over $1000. A portion of the proceeds will benefit the Cape Cod Children's Place, a child care and family resource center who serves families in Brewster and surrounding towns.
Chatham
14th Annual Festival of the Trees
Sponsored by the Chatham Garden Club
Cape Cod Commercial Hook Fishermen's Association1566 Main Street, Chatham
Place silent bids on ornamentally themed tabletop trees, shop for holiday wreaths and decorations, and enjoy the magical beauty of this seasonal event. For more information check here.
Creative Arts Center in Chatham
Holiday Sale and Small Works Exhibition
Friday, November 25, 2011 to Friday, December 9, 2011
10:00AM - 4:00PM
154 Crowell Road, Chatham MA
One stop holiday shopping includes hand made items for gift giving and small works of art to enhance the home. For more info, call 508-945-3583 or click here.
Annual Holiday Christmas Stroll
Friday, December 09, 2011 to Sunday, December 11, 2011
Chatham Community Center and Down Main Street
Click here to see full listing of holiday happenings in Chatham!
Dennis
Holiday Arts & Craft Show
December 4, 10-4
She Art Network holiday crafts at the West Dennis Graded School House, 67 School Street, West Dennis
Book Sale 7 Signing
December 4, 10-2
Cultural Center of Cape Cod
Local Cape Cod authors on hand to sign their books for holiday giving
Dennis Village On the Green
December 12, all day
Route 6A, Dennis
Presented by the Northside Business Assocation, there will be hayrides & trolley rides, Christmas tree lighting, face painting, village stroll (visit all the shops), silent auctions, petty zoo, food sampler on Village Green, toys and food donations, Santa & Mrs. Class, FREE gifts, ornaments and so much more.
Falmouth
Holidays-by-the-Sea Weekend 2010
December 3 - December 5
Various Locations, Falmouth
Falmouth Chamber of Commerce 508-548-8500
An array of events including:
Holiday Carol Sing at Nobska Lighthouse
Family Pancake Breakfast & Parade Raffle
Seafaring Santa Sails into Falmouth
Nobska Lighthouse Public Viewing
Annual Lighting of the Falmouth Village Green
47th Annual Falmouth Christmas Parade
For more details, click here.
Community Christmas Open House
December 4 1:00p.m.
Falmouth Museums on the Green
Julia Wood House, 55 Palmer Avenue
Falmouth. 508-540-0968
www.falmouthhistoricalsociety.org
Stop by before the lighting on the Village Green for holiday treats, shopping and viewing of the Julia Wood House as decorated by the Falmouth Garden Club and the Conant House decorated by the Falmouth Newcomers Club.
A Free community event.
The Best Christmas Pageant Ever
December 4 - December 13
Highfield Theatre
58 Highfield Drive, Falmouth
Fridays at 7:30p.m. - Weekends at 4:00p.m.
508-548-0400 www.falmouththeatreguild.org
Click here to see full list of Falmouth holiday events!
Eastham

Eastham Holiday Festival
December 4 10 am – 2 pm
Sponsored by the Eastham Chamber of Commerce and The Gift Barn, this Free event draws hundreds of children every year to help kick off the holiday season. This festive day includes a visit with Santa at the Gift Barn.For more information on how to get involved in this event as a sponsor or participant, contact the Eastham Chamber info@easthamchamber.com 508-240-7211
Nauset High School Winter Festival and Tree Sale
Saturday, December 4 9:00-12:00
The Nauset Regional High School Music Department Sixth Annual Winter Festival and Tree Sale. Non-stop performances by award-winning band, choral and string music students. Festivities include a tree sale (most trees between $25-$45), kiddie crafts, face painting, concessions, bake sale and more. Performances include: Concert Band, Jazz Band, String Orchestra, Treble Chorus, Honors Chorus, Concert Chorus and Glee!
Harwich
Christmas in Harwich
December 3-5, call 508-430-1165 for more information
Harwich Port Stroll
Friday, December 3 5:30-9pm
Tree lighting ceremony * Family Carol Singing * Photos with Santa * Horse-drawn carriage rides * Merchant open houses * Music * Refreshments * Good Cheer! *
Harwich Center events
Saturday, Dec 4 10am-4pm
Harwich Family Run * Brooks Academy Exhibits * Albro House Bade Sale * Holiday Fair at Brooks Free Library * She Art Network Sale at Harwich Community Center * Harwich Junior Theatre activities * Transportation by Cape Cod Scenic Tours *
East Harwich Stroll
1pm-4pm
Merchant open houses * Music * Refreshments * Good Cheer! *
Tour of Harwich Homes
1pm-5pm
Sponsored by The Garden Club of Harwich
Cove Club Open House
10am-2pm
Lessons, Carols and Songs
Sunday, December 5
Christ Church Episcopal, Harwich Port 3-4pm
First Congregational Church, Harwich Center, 7 pm
Hyannis
Harbor Lighting and Boat Parade
December 4, 2010
Hyannis Inner Harbor and Bismore Park-- Please keep your boat in the water and participate in this traditional Hyannis event.
Click here for more details.
Hyannis Village Christmas Stroll
12/04/2010
Breakfast with Santa at The British Beer Company from 9:00-10:00. Hyannis Village Christmas Stroll on Main Street, Hyannis with music and holiday activities is from 10:00-4:00 Hyannis Harbor Lighting and Boat Parade is at Bismore Park, Ocean Street, Hyannis from 4:00 to 6:00 p.m.
Martha's Vineyard
Featherstone's 8th Annual Holiday Show
November 19-December 19th
12 noon - 4 pm
Featherstone Center for the Arts, Oak Bluffs
Admission Fee:
Benefit for Featherstone Center for the Arts
Lighting of the Edgartown Lighthouse & Hayrides
December 10th 5:30 pm-6:30 pm
Start off Christmas in Edgartown with the Lighting of the Lighthouse. Hot chocolate to warm your hands and music by the Vintage Voices to warm the heart. Holiday goodies too! All at the Harbor View Hotels from 5:30 - 6:30 pm. Free and all are welcome.
Gingerbread House Workshop
December 11th 9 am, 11 am & 1 pm

Gumdrops, chocolates, peppermints and more! Decorate your own gingerbread house for the holiday season at Felix Neck Wildlife Sanctuary. Maximum 2 people per house. Three hour and a half session: 9 am-10:30 am, 11 am - 12:30 pm and 1-2:30 pm. The cost is $25 per house for members of Mass Audubon and $30 per house for non-members. Pre-registration is required.
Contact Felix Neck Wildlife Sanctuary for more details.
Click here for more holiday happenings on Martha's Vineyard!
Mashpee
5th Annual Mashpee Christmas Parade
Saturday, December 11, 2010 5:30 p.m.
Ticket Cost: Free! Email the Mashepee Chamber of Commerce for more details.
Nantucket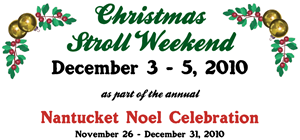 The 37th Annual Nantucket Christmas Stroll Weekend
December 3 - 5, 2010
Nantucket Noel Celebration
November 26 – December 31
A month-long celebration organized by the Nantucket Island Chamber of Commerce. Click here for a complete list of program highlights
Orleans
The SheArt Network's Annual Holiday Art & Fine Craft Show
December 4th, 2010
10:00am - 4:00pm
The SheArt Network proudly presents its Annual Holiday Art and Fine Craft Show at The West Dennis Graded School House
67 School Street West Dennis
Featuring the work of more than 25 Cape Cod artists, including paintings, photography, pottery, hand-crafted jewelry, cards, textile designs, knitwear, weavings, home décor and holiday gifts. Come and support local women artisans and crafters and find unique and affordable gifts and treasures for you and your loved ones for the Holiday Season!
Provincetown

Holly Folly Weekend
December 3,4, & 5
Join the restaurants, galleries, shops and much more for a weekend of fun, including:
Holly Folly Shop Hop
Holly Folly Jolly Trolley
Holly Folly Classic Disco Night
Click here for all of the details!
Sandwich
Annual Carole Sing
December 3 7pm
Rte 130 & Old Main Street, Sandwich
Raise your voice in this fun filled hour for an old-fashioned Carole sing. Bring your friends and relatives, join your neighbors or meet new ones. The Dickens Carolers will lead sing-along.
First Annual Glass Blowers Christmas and Open House
December 4 & 5 9:30am-5pm
Sandwich Glass Museum
129 Main Street, Sandwich
Christmas highlights regional glass artists and glass studios. Artists will showcase their unique artistry. People's Choice Award for best tree exhibit runs November 22nd through December 30th. 508-888-0251
Click here to see entire list of Canal holiday happenings