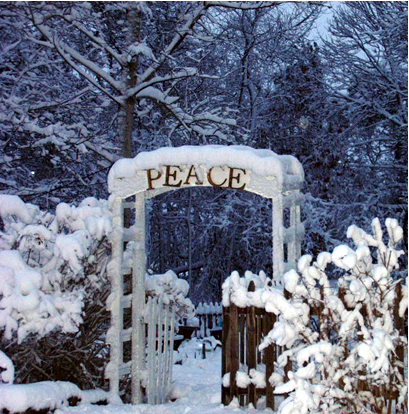 Peace, by Judith Underwood
Welcome to the Winter issue of CapeWomenOnline, where we honor this season of long nights and darker days as a sacred time of rest, regeneration and renewal.
In this issue, we are delighted to introduce you to five new contributing writers. By adding their voices to our magazine, these writers give credence to our belief that Cape Women have wonderful stories that not only inform, but inspire and entertain as well.
Caitlin Doggart invites you to curl up and escape to exotic locations in her recommendations of New Fiction for the New Year.
Looking for a little "Ooh la la"? Jamie Cat Callan, author of French Women Don't Sleep Alone, reveals how to make small, but meaningful changes that will spice up your life.
Publisher Nicola Burnell books into a local B&B for a mini writer's retreat, where A Room of my Own is all she needs to complete her novel.
Discover The Value of Peer Mentoring and how one woman found A New Leash on Life in our Working Women section.
We hope you enjoy these fabulous articles and look forward to your feedback and suggestions. As always, we are eternally grateful to our regular contributors who make this magazine possible.