Working for myself is more demanding and challenging when balanced with raising a young family. It requires working very late at night, after dinner time, and on the weekends. It is staying awake at night with my mind racing with a hundred things that need to be done the next day.
There are no sick days and no one can cover for me at meetings. Vacation time is not summer time. Work does not always get completed as quickly as I'd like, and sometimes the kiln gods have a different idea.
With each small step, however, I have gained confidence in myself and my work. Years ago, I hid behind my work, now I stand beside it.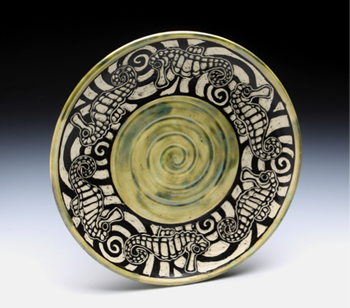 Green Seahorses, featuring the sgraffito carving technique
I was recently asked to join a show at the Cape Cod Museum of Art and another show at The Cultural Arts Center of Cape Cod. I am also currently working on a tile Mural for the Town of Yarmouth.
I feel honored to be on the Mid Cape Cultural Council representing the town of Yarmouth and I hope to encourage more artists to apply for grants and network to build strong working art relations.
Sometimes I stop and close the barn doors to my studio and take a walk down to the harbor to remind myself why I am here. So many times I would get caught up with the list of things I have to do rather than the things I would like to do.
Down by the harbor, I slow down, meditate and remember how blessed I am to be part of the Cape's Art world. Yes, I am lucky to create art for a living and yes, it is nice here. The Bass River Pottery studio is in the heart of the HyArts Cultural District at 50 Pearl Street, Hyannis. It will be closed for the winter but reopens in the spring. Until then, you can find Bass River Pottery on ETSY and on facebook.