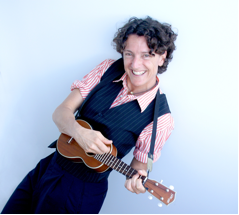 Zoe Lewis (a.k.a. The Band in the Body), in Concert
November 29, 7pm.
Zoe Lewis is affectionately known as "the band in a body." She plays jazz, jump jive, Latin grooves, swing, international folk, funk originals on anything from the piano to the spoons!
This dynamic performer is originally from England but now resides in Provincetown. She's traveled the world and toured with Judy Collins, Richie Havens and Nanci Griffith. She's written music for film and has just finished Snail Road, her first musical. Most recently, her songs have been appearing on Broadway.
Her latest recording is A Cure for the Hiccups. Rich Warren, WFTM Chicago, says, "An amazing, modern-day Noel Coward." Zoe on vocals, piano, guitar, uke, etc, etc. will be performing with the great Cape drummer Bart Weisman and bass player Jon Evans. $20, $18 for members.
Exploring Watercolor, with Jean Tucker
4 Wednesdays, November 26-December 16, 9am-12pm.
This class will show how to work quickly, capture an impression and enjoy the fresh and exciting use of watercolor. We will work from individual objects and concentrate on composition, value and color then gradually move on to creating simple still life subject matter and landscapes.
Different techniques will be discussed and demonstrated. Learning to be comfortable and experimenting is the only way to discover the beautiful luminous quality of this medium. Painting fruit, vegetables, cups, pitchers, jars and other things from the kitchen can be fun and challenging. These everyday items can make very charming paintings.
Please bring your special objects to add to the painting session. For more details visit: www.jean-tucker.com. $125, $100 for members.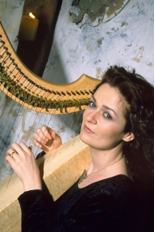 "To Warm the Winter's Night"
A Celtic Solstice Celebration with Renowned Harpist and Singer Aine Minogue
December 7, 7:30pm. $15.
Join Aine (pronounced Anya) Minogue as she journeys into the heart of the more contemplative side of the season, celebrating the symbolism of winter in the various Celtic regions (Ireland, Wales, Scotland, Galatia, Brittany, and Eastern Canada).
This Pan-Celtic odyssey is nothing less than an enchanting blend of music, storytelling, and tradition that is appropriate for all and designed To Warm the Winter's Night.
All events will take place at the Cultural Center of Cape Cod, 307 Old Main St., South Yarmouth. To register for any the above programs call 508-394-7100 or for full program listings visit www.cultural-center.org.