I am a crass optimist so I am sanguine about what lies ahead. I am also determined to use my mind and body to regenerate as much function as I can.
I have seven weeks of rehab which includes a robotic machine that "walks" your legs with both electrical impulses and walking simulation. It is so exciting to be "walking" again and to be told that my legs are doing 60%! I trust my body will do all it can.
But the next stage is still a waiting game.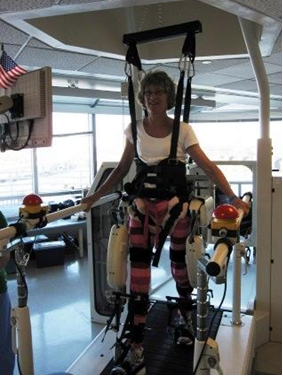 Jacquie's new best friend
I am so glad that I have grabbed life. I've traveled, visited family and friends, explored, partied, played with grandchildren, sailed extensively, enjoyed my work, and followed my dreams. I have a wonderful relationship with my husband of nearly 40 years and with my two sons.
Now my dreams will have different parameters and my husband and I will have to re-design our roles. But since the outcome is unknown, I dream the best outcome as I learn to deal with the worst.
I luxuriate in the tremendous outpouring of support, love, and caring from friends and family. In this respect, I have realized how important love and relationships are.
No longer will I be too busy to call, visit, or invite someone over. In the next stage, I vow to always put relationships at the center of my life.
I am in a life changing transition. I do not know what the next stage will bring, but I am hopeful and determined to make it the best that I can and to learn how to accept and deal with the hand I am given.
Jacquie Scarbrough is a regular contributor to this magazine. She lives in Harwich with her soul mate Lee. She plans to journal her road to recovery and share the wisdom this process offers her with her Cape Women Online family.