Feng Shui for the Holidays: When Less is Truly More
by Sheryll Hirschberger Reichwein

In our culture, the Holiday Season has traditionally been a time to celebrate life's bounty through enormous feasts and ever more gift giving. In these strained economic times, when for many of us the flow of income is slowed or shut off, assembling these feasts and purchasing these gifts can be extremely stressful and often impossible.
How do we reconcile our idealized images of the bountiful Thanksgiving table and the gifts crammed to capacity beneath the Christmas tree with our current limitations?
Does the answer lie in accepting austerity as a form of self-punishment for our years of collective over-indulging? Is a sense of lack and disappointment simply the price we must inevitably pay?
Or, could it be possible to find joy in the experience of having less than we've had before?
Feng Shui grows out of the ancient Taoist philosophical tree. Two core concepts of Taoism are Yin and Yang. In the West, we are most familiar with Yin and Yang as symbols of the feminine and masculine principles.
In the West, we are most familiar with Yin and Yang as symbols of the feminine and masculine principles.

Holiday Health Tips
by Olivia H. Miller
Easy ways to
shrug off seasonal stress
Our yoga expert offers these simple techniques you can do anytime, anywhere!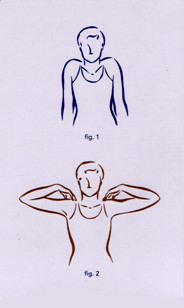 Are you one of those people who – like many of us – swear that the next holiday season will be different? You know, slower, calmer, more peaceful?
But is the cold fog of dread starting to creep in as the days get shorter and you-know-what is right around the corner? Oh, no here come them ole holiday blues again, mama!
Well, no need to panic. Below are some simple tips to help you make it through the frantic holiday season with a touch more grace and ease.
B-R-E-A-T-H-E!
Can you see yourself standing in a long line at your least favorite store, impatient, tired, frazzled and annoyed?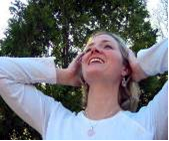 A Message from Spirit
Channeled by Lynne Delaney
May Peace be your Guide
Dearest beings of creation, you are a reflection of the love and light that emanates from peace in the Universe. Reach into the depths of your soul and rediscover your peaceful demeanor, for this is truly your natural state of being.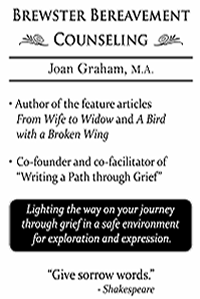 2141 Main Street
PO Box 1650
Brewster, MA 02631
508 896-7657 joangraham@capecod.net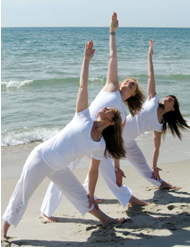 Hatha Yoga Classes:
Beginners - Tuesday eves 5:15
Moderate - Thursday eves 5:30
www.KindYoga.com