Blending Family & Holiday Traditions
by Dorothy Cohen
I'm Christian and my husband is Jewish, therefore making us the ultimate blended family. What this statement doesn't tell you is how exhausting it is. Oy, let me tell you.
When we first got married, there was no discussion of religion. Who cared? We were in love. Kids came. They were both girls, so there was no discussion of needing a bris. Again, who cared? We had plenty of time to figure it out before they got older. Boy, were we stupid.
We celebrated everything. Small children don't worry too much about what holiday they're celebrating, as long as presents are involved.
Long before we made any decisions about whether to attend church or temple, holidays always posed the biggest challenge for us. For instance, when the kids were young, those church Easter egg hunts were all the rage with their friends. The same thing with those pretty Easter baskets. You know the ones, with the fuzzy stuffed animal and the fake grass sitting atop all that teeth-rotting candy. We've always justified it to our girls (and ourselves) by saying it was a "spring celebration" basket.
As it turns out, the joke's on us. We dragged our feet for a long time, not making any decisions. When our oldest daughter was ten years old, we finally made our decision. We joined a temple and started our girls' Jewish religious training. Talk about dissension in the ranks!
The "spring" baskets are one of the holiday traditions they can't let go of. It's pretty difficult to sit at the family table celebrating Passover and eating bitter herbs, tasting them because life was bitter for my kids' Jewish forbearers...and then having the kids leave the table to eat a chocolate bunny. I can see them in the psychiatrist's chair now.
I'd like to say we've given up the dual spring holidays, but we haven't. I fear a violent mutiny in my home if we ever really did.
Ah, and now the Christmas/Channukah season is upon us. The most maddening season of all. I remember our first holiday together, when we were just married. We were decorating the tree - maybe you know the one? It's the one dedicated to the wild creatures, having nothing to do with celebrating the birth of Jesus, because my husband didn't believe in that part of the bible. My mother-in-law called to speak to her son while we were decorating...and I told her what he was busy doing.
It took him about 20 minutes to talk her down from the ledge.
It's only gotten worse as our kids grow older. We've had plenty of awkwardness around this joyous season. Bubbeh (a.k.a Grandma) (a.k.a. mother-in-law) now lives with us. She bitterly endures the Christmas tree that we still erect in the living room each December in honor of those little squirrels and forest creatures.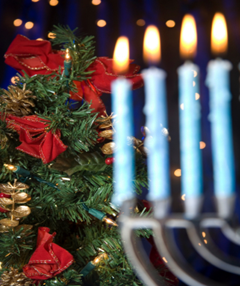 When I close my eyes, I can picture the tableau on a typical night of Channukah; my family lighting the menorah and reciting the traditional Jewish prayers, bathed in the gentle twinkling lights of the Christmas tree. Religious dysfunction at its best!
I also feel like a "double agent" when I take the kids to temple. I once mentioned to the rabbi that we'd had pork for dinner the night before (I'm Protestant, what did I know??) Big oops!!! It was like the scene from a movie where everyone's chatting and the minute the dreaded sentence is uttered - in the case, "we had pork for dinner" - everything went quiet.
Awkward AND uncomfortable!
Being a blended family brings many joys and challenges. Okay, mostly challenges. But we're a happy family and I wouldn't change it for anything in the world.
L'Chaim.
A Cape Cod native, Dorothy Cohen lives in Harwich with her blended family and kennel of animals.