Christmas As We Know It: An Historical View
by Marissa Doyle
Ah, Christmas. Putting aside thoughts of the impossibility of finding a parking place at the mall or a present that your teenage niece will at least pretend to like, what comes to mind when you think of Christmas?
Twinkling trees and wreaths on doors…mouth watering cooking aromas…carols and family get-togethers and general good cheer…aren't those what make up Christmas? Isn't that the way it's always been?
Well, actually, not really. In many ways, Christmas is a 19th century invention, an accidental by-product of politics…specifically, the fact that an 18-year-old girl became Queen of England back in 1837.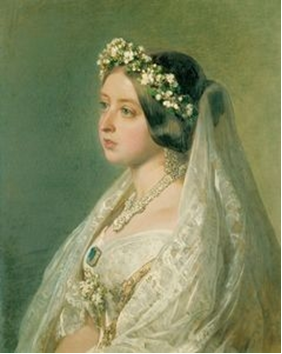 Queen Victoria, 1847
When young Victoria ascended the throne, she was an absolute sensation. England had been ruled by a line of rather skanky old men for the last hundred years or so, some of whom were German and had never even learned how to speak English, or were too preoccupied with their mistresses and shopping to pay much attention to ruling, or were locked away because of insanity (that was Victoria's grandfather, George III). So when a pretty, virtuously wholesome, and very English girl became queen, the country went wild.
Bear with me here. I really am going to start talking about Christmas shortly.
Everyone was in love with Victoria. If a magazine editor wanted to sell out an issue, he included a story or picture of the Queen. If a manufacturer wanted to sell something—from tea to bonnets to carriages—he called it "the Victoria blend" or "the Victoria bonnet" or whatever, and it sold like hotcakes.
Everyone wanted to somehow reach out to her, share in her mystique, be like her, much in the same way that people in the seventies got Dorothy Hamill haircuts.
Which, on the whole, wasn't a bad thing—not the haircuts, that is, but trying to be like Victoria. Victoria actually had a conscience and believed in virtue and upholding public morals, and had arrived on the scene when there was a general shift in societal mores from the rather free-wheeling, heavy partying 18th and early 19th centuries to a more responsible, socially conscious world view. She was a harbinger of her times, and everyone ate it up.