The Hydrangea House of Dennisport – Not just a Gift Shop
Reviving the Era of the Art Colony on Cape Cod

When Marsha Ross opened the doors to the Hydrangea House of Dennisport, on Depot Street, she began the first phase of her plan to create an art colony that welcomes women who share her dream.

A native New Englander, Marsha believes Cape Cod is the perfect location to develop her vision, which is reminiscent of the artist colonies the 1930's and 40's.
Nina Schuessler: Still a Creative Force behind Harwich Junior Theatre
by Katie O'Sullivan
In her thirty plus years at the Harwich Junior Theatre (HJT), Nina Schuessler has played many parts and filled many roles. Actress, teacher, director, producer, house manager…you name it, Nina has done it. And done it well.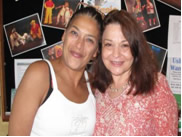 Nina Schuessler & Lisa Canto above in 2009 and below in 2000.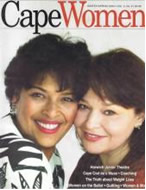 Art & Alzheimer's: Making Memories
by Suzanne Faith
The ability to remember words and communicate fluidly with language is one of the first losses experienced with the onset of Alzheimer's disease.
Families and professionals working with individuals diagnosed with dementia rely heavily on nonverbal exchanges and symbolic interpretations in order to express thoughts or interpret needs.
For many of us, nonverbal expression is often a component of our verbalization. We use our hands to signal, direct, and call attention to something. Learning symbolic interpretation, that is the emotion or idea behind what one is trying to express, is far more difficult.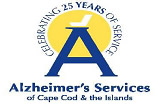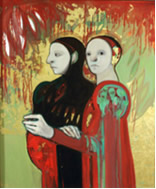 Two Figures/Black and Red,
by Selina Trieff
Floral Still Life, by Ada Rayner