American Farmland Trust: Saving the Land that Sustains Us
It's hard to be a farmer on Cape Cod. Space is at a premium and land is expensive. Never has it been so important to support your local growers and farm stands. Without farmers there is no food.
Massachusetts has a rich and diverse heritage of farming, and agriculture continues to be important to our state's economy, culture and landscape. From cranberry bogs to apple orchards, dairy farms to greenhouses, vegetable fields to livestock operations, our agricultural industry is primarily family farms.
American Farmland Trust (AFT) is a private, nonprofit organization founded in 1980 to stop the loss of productive farmland and to promote farming practices that lead to a healthy environment.
AFT's New England Office is located in Northampton, Mass. AFT has been active in farmland protection efforts in Massachusetts for more than 20 years, promoting farmland protection, farm viability and farm conservation through research, outreach, advocacy and policy development at the municipal, state and federal levels.

Lower Cape Children's Garden: Pure Magic
by Myka-Lynne Sokoloff
A magic garden grows in Brewster, tended by elves and giants. These elves take the shape of human children. And just who are those jolly green giants? Master Gardeners, who are all volunteers, trained and certified by Barnstable County's Cape Cod Cooperative Extension office.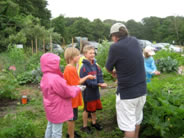 In its third season, the Lower Cape Children's Garden is a serene, productive oasis hidden away off Lower Road in Brewster, on land preserved by the Brewster Conservation Trust. The land, donated by sisters Ruth and Mary Louise Eddy, long ago served as the planting fields of the Saquatuckets.

CLASH:


Cape Land & Sea Harvest
Friday, 9/25 through Sunday, 9/27

A salute to fishing, farming, and all things Cape Cod, the CLASH is a weekend long festival celebrating the rich heritage and abundance of local food on the Cape.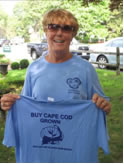 It's Harvest Time on Cape Cod
Fall is in the air! The weather is cooling, the kids are back to school, and most of the tourists have gone home.

As the leaves begin to turn, many Cape Cod farmers are gearing up for harvest time.
While everyone may know about the Cape's famous cranberry bogs, not everyone knows about the other active local farms.
Pick Your Own Farm List