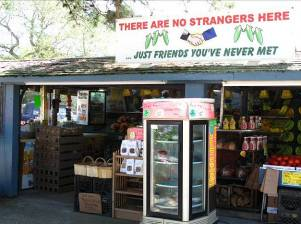 Farm Stand on Lower County Road, Dennisport
Andrews Farm
394 Old Meetinghouse Road
E. Falmouth
508-548-4717
PYO strawberries, pumpkins and vegetables. School groups welcome. Farm animals: goats, sheep, pigs, calf. Scout groups, sing alongs, picnic area, birthday parties, campfires, canoeing, camping. Christmas trees and Candy Cane Hunt. Call for full events calendar.
Cape Cod Winery
681 Sandwich Road
E. Falmouth 508-457-5592
The winery produces Merlot, Pinot Grigio, Cabernet and Seyval wines. The 9 1/2 acre vineyard on Cape Cod takes advantage of the special weather effects for ideal growing conditions for the vinifera grapes.
May-December, Saturday & Suday 12-4 Tastings & Gift Shop
Cedar Spring Herb Farm
159 Long Pond Drive
Harwich 508-430-4372
Herb specialty shop, identification gardens, production gardens, walking trails, UPS Botanical sanctuary, classes, medicinal herbs, organic health and beauty products, wellness consultations. May-November, Wednesday to Sunday, 10-4pm.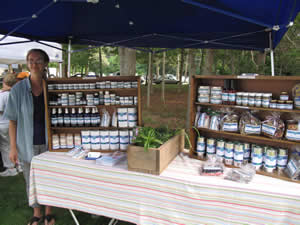 Cedar Spring Herb Farm at Harwich Farmer's Market.
Coonamessett Farm
277 Hatchville Road
E. Falmouth 508-563-2560
A 20-acre farming and research operation. Farm is open to visitors by annual membership or daily fee. Include PYO berries and vegetables, viewing hydroponic greenhouses and aquaculture systems, canoeing, dining at the farm's café, browsing the gift shop, and feeding the farm's herd of alpacas, goats, and sheep.
Monday-Saturday 9am-5pm, Sunday 10am-5pm.
After October 1, closed Mondays and Tuesdays.