Publisher's Note:

Jacquie Scarbrough is a regular contributor to this magazine. In this issue, Jacquie journals her continued road to recovery after a ruptured AVM left her partially paralyzed. Facing her daily challenges with humor, determination and valiant optimism, she shares the wisdom of her healing process with her Cape Women Online family.
Hopes Realized
by Jacquie Scarbrough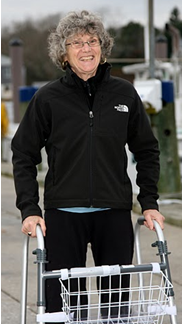 Well, it has been nearly four months since this saga began. Instead of surreally watching my legs shut down over a week, now I am watching my lower body regain function over months. It's happening naturally to some extent, but more precisely it's happening due to hard work: daily exercises, electrical stimulation and physical therapy sessions.
Presently I am wearing a half brace on my left leg – soon to be modified so my ankle can move too – and a full brace with a locking knee for my right leg. My left leg is working very well, but my right leg is still quite immobile. The ankle muscles do not work unless they are given an electrical charge.
The thigh and hamstring muscles are beginning to come back, but are weak. For example, today I "walked" without a full leg brace on my right leg, but with a walker, three people, and a wheelchair poised to catch me if I fell.
The focus is on regaining and strengthening the muscles in the right leg so we can remove the upper part of the brace and get the ankle to work. That will entail electrical stimulation to wake-up and strengthen the muscles, daily exercises to further strengthen them and walking exercises to re-train the connections between my brain and my legs. It takes brain and body, technology and exercise, patience and planning.
There are two aspects to life now: patience (learn how to live with what you've got) and determination (drive your body to do more). I am someone with extra energy who goes at full speed. Now I've learned to slow down.
I have to transfer from a wheelchair to a shower chair in the morning, then out again, and then get dressed while sitting in a wheelchair with one leg that doesn't cooperate. I then put on braces. Believe me, there is no more rushing out the door in the morning! It takes determination to do common everyday tasks and I need to be determined to do the seven pages of exercises every day suggested by the physical therapists.
I also try to live a somewhat normal life: go to work, meetings and parties as well as cook and do household chores. I've developed some bi-level techniques at home. I use the wheelchair if I have to carry food or dishes to the table, for example, but I use my walker when chopping on the butcher block.
Oh, the pleasure of returning to work: using my mind and my skills and not focusing exclusively on my body. I'm so happy to be back. I have been working half a day and hope to soon be back to full days. The handicap entrance and elevator make entering my office a breeze, but interacting with the others in the main office is difficult. It's a convoluted and fairly long walk. I will try it when the pressure is off so I have time and they are not inundated with students as they are now.
I'm learning to ask for help - something I've always done sparingly and uncomfortably. But now I need rides, someone to carry my food from the buffet table, and someone to do errands.