A Room of My Own
by Nicola Burnell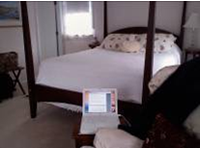 A B&B Retreat: the perfect place to just write
For too many years my New Year's Resolution was to Finish My Novel. I was forever stumbling under the endless assault of life's distractions. My internal critic reigned supreme: "You shouldn't be wasting your time talking to people in your head when you have REALLY IMPORTANT things to do!"
This year I have a new goal: Rewrite My Novel.
In November, 2009, I did something completely outrageous and utterly self indulgent - I stepped out of my over-scheduled life and took myself on a mini writer's retreat to Falmouth's Beach Rose Inn.
I had three days and two nights to jump start my creative engines and convince the characters I'd left dangling in limbo that I was ready to let them complete their stories.

From Estonia to Cape Cod: Recent Landscapes
by Sarah Son-Theroux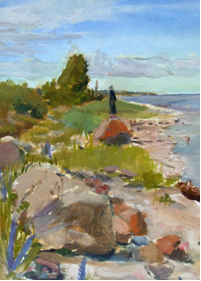 Birgit Standing by the Sea
The Cape Cod Museum of Art will open the second annual Arthur J. McMurtry Memorial Exhibition on February 27.
The exhibit, which features plein air artist Sarah Son-Theroux, will run from February 27 through April 11, 2010. CCMA Curator Michael Giaquinto will give a gallery talk on Thursday, April 1 at 1:00 p.m.
The exhibition features landscapes Sarah Son-Theroux has painted over the last several years, including those she did as a Fulbright Scholar in Estonia during 2007 and 2008.

Giving an Old Coat a New Life
by Kristin Stewart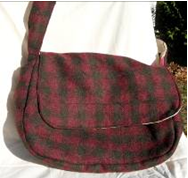 Red Plaid Bag
There is an old Yankee saying: "Necessity is the mother of invention." In my case, necessity mixed with a little creativity gave birth to a new company: Coat Totes.
I found myself in need of a good handbag. But I couldn't find one that I liked. They were all too big or too small, to bright or too dull, too heavy or too long. You get the idea.
I have some experience with a sewing machine, so I thought I would make myself the perfect bag. But I like pockets, and I don't know how to sew nice pockets. This led me to think, "What sorts of things exist with pockets already that I could deconstruct and use to make a bag?"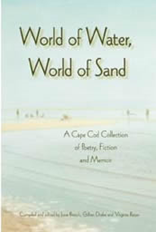 An anthology of poetry, fiction and memoir about Cape Cod. Available at bookstores or email GillianHDrake@aol.com