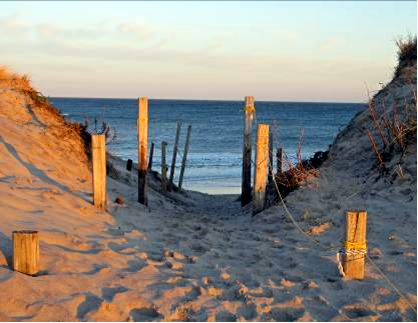 Nauset Beach Path
Photograph by Katie Cutter
Feelings of homesickness and being a fish out of water (or a mountain girl in water) were overshadowed by my love for the beach and appreciation for the different bodies of water.
The canopy of trees that seem to never end, compared to the vast openness I always knew. The homes, with their quaint, simple beauty that seem to nestle into the landscape. The shells and seaweed gathering at the waters edge. The light at sunrise and the sunsets that illuminate the beach grass and turn the sand a soft pink.
I love how the water can be so volatile one day and calm like a pond the next. I love the seals, the birds and the new forms of wildlife that thrive here in the summer.
Aside from the natural beauty that changes with the seasons, I was learning how to be miles away from "my people." The women I've met on Cape Cod have been especially helpful with the transition from familiar to foreign. Many have been in similar situations - the new kid in town, relocating for their spouses or looking to make a change. In this we have a special bond. I had fellowship and a companion, and began growing roots in the sand.
Exploration of new places is sometimes fascinating, sometimes frustrating. In winter I walked by the icy beach and watched the ice flow in and out with the tides. I learned fall is long and beautiful, and the best time to be here. I've also learned spring is pretty much nonexistent.
Learning how to get around was not exactly a piece of cake. I was used to a grid street system as well as using the mountains as a compass. There are no grids here, no mountains to guide me and I still do not understand how there can be so many Pleasant Streets in such a small vicinity. I did learn that you can find a lot by getting lost.
The best part of living on Cape Cod is the magnificent array of amazing people. I've learned that everyone, everywhere has a story. For whatever reason, people here tend to have really great stories. Artists, writers, and retirees, grandparents with histories as well as impressive offspring, celebrities, politicians, mothers, fathers, and children - the list goes on and on.
I still get homesick for my family, Colorado friends and the mountains, but now I consider myself fortunate to have two places I can call home. One with the mountains and one with the ocean. Both desirable and both completely awe-inspiring.
We got engaged here, and married there. I have family, friends, experiences and memories from both here and there. So maybe I am a Cape Coloradoan? Or perhaps I am just a Cape Codder now. I think I'm okay with that. Either way, I'm glad I moved here, just for the summer.
Katie Cutter lives in Harwich with her husband. She loves the winter season on Cape Cod.
Return to the Life Stories page