A Room of My Own
by Nicola Burnell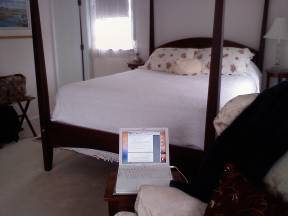 A B&B Retreat: the perfect place to write
For too many years my New Year's Resolution was to Finish My Novel. I was forever stumbling under the endless assault of life's distractions. My internal critic reigned supreme: "You shouldn't be wasting your time talking to people in your head when you have REALLY IMPORTANT things to do!"
This year I have a new goal: Rewrite My Novel.
In November, 2009, I did something completely outrageous and utterly self indulgent - I stepped out of my over-scheduled life and took myself on a mini writer's retreat to Falmouth's Beach Rose Inn.
I had three days and two nights to jump start my creative engines and convince the characters I'd left dangling in limbo that I was ready to let them complete their stories.
In essence, I took myself on an extended Artist Date, one of the Basic Tools of creative recovery that I'd learned from The Artist's Way, by Julia Cameron. "An Artist Date is a block of time...especially set aside and committed to nurturing your creative consciousness, your inner artist."
Not just for artists, this is a play date anyone can enjoy. Julia suggests treating your inner artist like a child. Pamper it, play with it and listen to what it needs. Taking her advice to heart, I packed up a selection of my favorite creative toys, including my 22-year-old teddy bear, an assortment of candles, crystals, photographs and most comfortable pajamas.
My new writer's nest had a little seating area in the corner of the bedroom with a plug-in fireplace that looked like a wood stove. My bags were unpacked within an hour of my arrival. I plugged in my printer, opened the ream of recycled paper (ever the optimist), and fired up my old iBook.
I organized the box containing pages of my unfinished manuscript (scribbled and printed) with small post-it notes and gathered up my creative toys to build my artist's altar.
Another tool gleaned from The Artist's Way, the artist's altar is a place to put "things that make you happy." I set out my candles, crystals, photos, bottle of Pinot Noir and favorite wine glass on top of the antique dresser. "Your artist is fed by images," Julia explains. "An artist's altar should be a sensory experience."
I finally had a room of my own - a place to do nothing but write, eat and sleep. There were no animals to feed, no teenagers to parent, no emails, no phone calls, no classes, no bills, none of the usual distractions.
The only thing missing was chocolate. It wasn't hard to talk myself into driving to Ghelfi's for a box of handmade chocolates. It was after 8 p.m. when I returned to my room, and after 9 p.m. when I climbed out of the hot tub that was nestled into one corner of the beautifully landscaped gardens of the Inn.
When I finally sat in the wing back chair to face my manuscript, I got up again to stuff a pillow behind my back. Moments later, I needed to pee.
I switched on the orange flame of the fireplace, poured a glass of wine, lit a candle and opened my iBook. My manuscript stared back at me, as if asking where I'd been all night. We had a writing date, after all.