From Estonia to Cape Cod: Recent Landscapes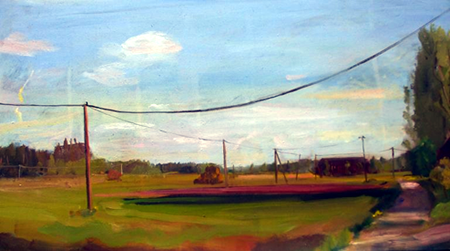 Haystacks in Evening"
, 20" x 32", oil on canvas, 2008, Sarah Son-Theroux. Published courtesy of CCMOA
The Cape Cod Museum of Art will open the second annual Arthur J. McMurtry Memorial Exhibition on February 27. The exhibit, which features plein air artist Sarah Son-Theroux, will run from February 27 through April 11, 2010. CCMA Curator Michael Giaquinto will give a gallery talk on Thursday, April 1 at 1:00 p.m.
The exhibition features landscapes Sarah Son-Theroux has painted over the last several years, including those she did as a Fulbright Scholar in Estonia during 2007 and 2008.
Born in Philadelphia, Sarah first studied art at The Pennsylvania Academy of Fine Arts, where she received a Certificate of Fine Arts degree in 1993. She received her Bachelor of Fine Arts from the University of Pennsylvania in 1995, and MFA in Landscape Painting at Indiana University in 2005.
Sarah was awarded a painting residency at the Vermont Studio Center and a painting residency at the Pennsylvania Academy of Fine Art. She taught English and art in Korea, and taught art at Indiana University; in Stony Brook, New York; and at Tabor Academy in Marion, MA. She has been teaching at the Cape Cod Museum of Art in Dennis since 2007.
In a 2007 story in the Cape Cod Times, Sarah said, "As a teacher, I like the challenge of giving to each student the opportunity to explore himself or herself, to lead out of them what may reside inside...Discovery is, more than anything else - self discovery."
She received a Fulbright Grant in 2007 to paint in Estonia in affiliation with the Estonian Academy of Art. Her engaging and forceful landscapes capture the literal and spiritual powers of nature. Sarah is keenly aware of the cause and effect relationship that the physical world has upon its inhabitants. Her landscapes hint at the sacramental connection between man and his environment.
"I have enjoyed the changing locations," she says. "Quite remarkable in themselves, the distinct variety of light, the changing illuminations of sky and sea, valley and vista… There is a challenge, of course, in trying to record the nature of whatever landscape one comes across, but luckily it fell to me to be able to travel with my easel under my arm these last few years."
She adds, "I hope my work reflects my passion for my art and gives the viewer as much joy as I had in doing these paintings."