"People have become numb to the dangers of cleaning products – things they have under their sinks at home and they don't even look at the warning labels anymore," Lisa explains. A self-professed eco-educator, she enjoys speaking with groups about the dangers of household chemicals, and the importance of making greener choices.
According to the literature Lisa hands out at her talks, the average home contains at least 62 toxic chemicals. More than 72,000 synthetic chemicals have been created and mass-produced since World War II, and less than 2% of those chemicals have ever been tested for toxicity, birth defects, or carcinogenic effects.
The majority of chemicals have never been tested for long-term effects.
Formaldehyde, phenol, benzene, toluene and xylene are some of the chemicals found in common household cleaners, cosmetics, beverages, fabrics and cigarette smoke. These chemicals are known to be cancer causing and toxic to the immune and nervous systems.
Lisa points out that the dangers posed by cleaning chemicals is mostly a problem for women and young children, who spend more time inside their homes. One EPA study she cites found that women who work in the home had a 54% higher cancer rate than those who worked outside the home. Infertility, breast cancer, cancer in children, asthma and ADD are all on the rise, and Lisa says all of these conditions have possible links to chemicals in the home.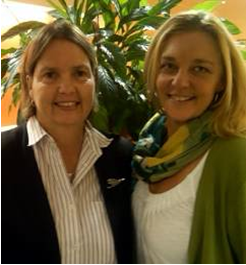 Debbie & Lisa
The wowgreen cleaning products that Lisa and Debbie now use and sell are enzyme-based rather than chemical-based. Lisa explains that enzymes are biomolecules found in nature, and each enzyme is designed to break down different compounds more efficiently than chemical-based cleaning products.
Every product, from the stain pen to the window cleaner to the laundry detergent, is non-toxic. All wowgreen cleaners are made from natural materials. The packaging used is recyclable and reusable. Concentrated refill packets for the six spray bottle cleaners are shipped separately, and the retail consumer adds their own water.
"People say, oh I've used green products before and they don't work," says Debbie. "Or they say they're using cleaners that say 'green' on the label when actually the products are full of harmful chemicals. The wowgreen products are 100% enzyme-based, and they work really well. The customers we cleaned for this summer were very happy."
Return to Environment page