New Fiction for the New Year
by Caitlin Doggart
The festivities of the holiday season are over, the ground is frozen, the gray days still short. It is undoubtedly the perfect time of year for curling up, guilt-free, next to a fireplace with a stack of good books.
The following selection lists books that will be new in the early months of 2010. While the list encompasses a variety of settings and styles, the commonality is that each book is a really terrific and absorbing read that will hold its readers' breathless attention until they look up from the last page, blinking their way back into their own lives, to discover the arrival of spring.
by Maaza Mengiste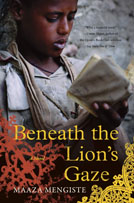 Available January 2010 from W.W. Norton
This riveting novel focuses on the primacy of family relationships against the violent backdrop of Ethiopia's 1974 Revolution and the following years.
Hailu, a prominent doctor, his two grown sons, Dawit and Yonas, and his surrogate son Mickey, experience their country's tragedy and their own family's grief through very different prisms of understanding.
Dawit becomes involved in a shadowy resistance movement as Yonus struggles to keep a semblance of normalcy in their household's compound. When Hailu is arrested for questioning after treating an imprisoned girl in the custody of the Derg militia, all three sons become further involved in the gruesome terror overtaking their capital city of Addis Ababa.
Maaza writes with incredible talent, moving the story forward while focusing on both the major and minor characters. She gives vibrant life to the children in the compound, for example, capturing their naiveté as well as their involvement in the general plot.
This novel displays the best of historical fiction - it makes a time and place come alive through the compelling characters. Although the subject matter is dark and emotionally-gripping, this novel is very hard to put down!
by Michael J. White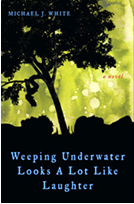 Available February 2010 from Putnam
Michael White, another debut novelist, vividly creates a coming-of-age story set in Des Moines. The narrator, the wry, direct, open-hearted George Flynn, writes from the present-day as he reflects on the formative events of his high school years.
He starts a new school as a junior when his father is transferred for work, and he quickly connects with the Schell sisters. Emily, his peer, is an aspiring actress with a cameo in The Bridges of Madison County, and her younger sister Katie, diagnosed with MS at an extremely young age, is a quirky, intelligent, 14-year-old with a poorly-concealed crush on George.
An unlikely accident further connects George with the Schell family, and his adult memories of the aftermath evoke an age of awkward adolescence, and of trying to do the right thing while falling helplessly in love for the first time.