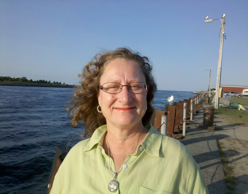 When she isn't teaching the abundant virtues of the comma at Roger Williams University School of Law, writing poetry about big hair and Elvis, and doing the Cha Cha, Kim Baker works to end violence against women.
Kim's poems have been published online and in print and essays broadcast on NPR. Three short plays have been stage-read at Culture*Park in New Bedford.
Kim's first chapbook of poetry, Under the Influence: Musings about Poems and Paintings, is now available from Finishing Line Press.
Kim is currently working on a book of ekphrasis poems about the stories and portrayals of women in the paintings of female artists. Kim can be reached at bighairedpoet@gmail.com.