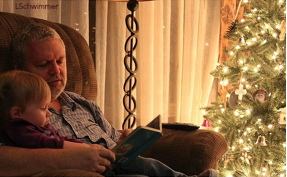 Living Whole: The Most Desired Gift
by Maggie French
The seasonal escapades are about to begin. We will create list upon list of things to be done to celebrate, enjoy, get through, and endure the next six weeks. Our lists will no doubt include the well-known "Gift List."
"Come they told me...pa rum pum pum pum"
When and where did all this giving of gifts begin?
Is it from the story of the first Christmas with the gifts of Gold, Frankincense and Myrrh? Or is it, dare I say, after a Celtic pagan relating to the winter solstice, when gifts were exchanged between clans and chieftains as a means of renewing ties and friendship?
What are the origins of this activity that now seem so onerous?
We've heard of St. Nicholas, a Christian Bishop, known for his generosity to children. Then there is the theory that it's a conscript of the mid-December Roman feast, Saturnaua, taken up by the Church to entice the population toward Christianity.
However the activity of Christmas gift-giving began, where has the joy of giving and the appreciation of receiving gone? What happened to giving something meant to be enjoyed in the giving, and appreciated in the receiving?
"Our finest gifts we bring…pa rum pum pum pum"
What is it about the tangible gift and its finery that became the objective for the act of gift giving? The search, the quest, making us feel small and insignificant, nothing purchased ever being quite "good enough."