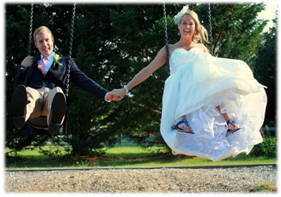 In Love & Living Local
by Grace Finch
When I received my save-the-date invitation to the wedding ceremony of a dear friend of mine I was thrilled at their choice of location. Brewster's Drummer Boy Park is the perfect backdrop for a wedding ceremony.
The large white bandstand sits amid an open grassy field that overlooks the sand dunes and water of Cape Cod Bay. A nearby playground invites families and children to play and enjoy the surroundings, and an old windmill stands tall on top of a hill along the edge of a beautiful wildflower garden.
The bride and groom had chosen this location because they'd both grown up in Brewster and had visited this park their whole lives.
Each of their guests who were born and raised here also had a strong connection and love for Cape Cod. Their families live here, as do many friends who make this community a unique and special place to live. I grew up in Brewster, and this picturesque place has always brought me great joy.
I was equally delighted when the bride explained to me that everything incorporated into her wedding was to be local. Every detail of this special day would support and include family, friends and local businesses.
The first detail to attend to was the dress, which was tailored at Sue's Workplace, in Orleans, where the bride and her sister had a great time at the fittings. They were treated very kindly by the new business owner with laughs and very fair prices.
The bridesmaids' dresses came from Chantilly Bridal, in Hyannis. Made from a beautiful emerald green floor-length fabric, they featured a white sash tied around the upper waist that hung long in back. The girls had their hair done by a best friend of the bride and they all looked stunning.
Suits for the gentlemen came from Puritan, also in Hyannis, and complimented their homemade peacock feather corsage (a theme throughout the wedding) that was pinned to their jackets.
The bride grew flowers in her own garden to construct her beautiful bouquet of white roses, purple cosmos and greenery. Some of the flowers for the centerpieces came from a farm in Harwich called In The Weeds, where my friend cut them herself for all the arrangements.