What's Happening To Our Environment? is a new column that explores issues that, in our humble opinion, are not getting enough press time. This is also a column for you to share your environmental concerns about issues that may not have a simple solution. By discussing them here, we hope to raise awareness of these issues and nudge those who CAN find answers into action.
In the second of this new series, we look at damage caused to Cape Cod's beaches by the Codium seaweed invasion.
Email your environmental concerns to Nicola@CapeWomenonline.com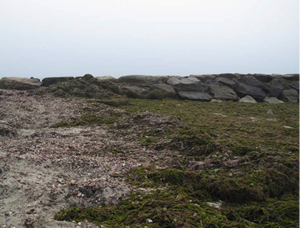 What's Happening To Our Environment?
Not all Seaweed is Created Equal
by Katie O'Sullivan
If you've walked along the south side Cape Cod beaches, you may have noticed a different type of seaweed piling up at the strandline. This seaweed is thick, spongy, smelly and bright green… and it's not even true seaweed.
Codium fragile, or "dead man's fingers," is an invasive algae from the Asian Pacific, first reported in U.S. waters near Long Island in 1957, and first seen in Buzzards Bay back in 1961. So it's not new. But it is a growing problem.
"Invasive" in the case of codium means a non-native species that is crowding out the native eelgrass that used to be dominant in Nantucket Sound and Buzzards Bay. A true seagrass that grew in underwater meadows, eelgrass beds formed communities that acted as nurseries, habitats and feeding grounds for many different fish, water birds and invertebrates.
As a "macroalgae," codium doesn't have a root system like eelgrass or other true seaweeds, but attaches itself with a "sticky foot" to cling to hard surfaces, like rocks and shells. Which leads to one of the serious problems with codium – it smothers the shellfish it attaches to (scallops, clams, oysters, snails, etc.) and kills them, causing them to be pulled from their beds and washed ashore.
Because of its thick-stalked, bushy structure, codium doesn't provide the same underwater habitat for fish fry or crabs as other native seagrasses do. It also doesn't have a distinct summer growing season like eelgrass or other seaweeds. It continues to spread, bloom, and die all year long, crowding out and shading other plant life, and washing up on beaches throughout the year in large amounts.
Not a New Problem
The Massachusetts Office of Coastal Zone Management (CZM) discussed the problem of codium in Cape Cod waters in a 2005 report, specifically citing the build-up of codium on West Harwich beaches. The Cape Cod Chronicle ran an article about the problems Harwich faced with this invasive species in August 2008, with photos of Harwich Port's Red River Beach.
Yet here we are today, at the end of 2013, and the problem isn't getting any better.