Still Beside Me
by Debbie McNaughton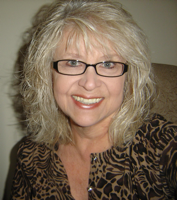 A large glass of milk and twelve Toll House cookies sat on a holiday tray in the middle of the coffee table, awaiting Santa and the reindeer.
"Ask for three gifts. Santa has children all over the world needing presents," Mum said, as she helped me with my good girl letter.
I felt assured I would see a cowgirl outfit under the tree. Deep in thought, I frowned then asked, "Mum, we have no fireplace for him to come down."
"Santa has a magic way into every home. Sometimes he walks in the front door," she replied. "Last year, he opened the unlocked attic window and marched right down our staircase!"
Later, snuggled up in bed, my anticipation was unbearable. I gazed out the window beside me towards the sky. Would I see Santa tonight?
Visions of sugar plums from the pages of my night time story lingered. In the wink of an eye, a sound far in the distance called to me. "HO, HO, HO." The unmistakable belly laugh and loud sleigh bells made me sit bolt upright.
I opened the door to the hallway then scurried past the stairs into my parents' bedroom. How can they be asleep, can't they hear him?
"Dad, Dad, Santa's here!" I shook him and whispered, wide eyed.
"No kidding!" He clutched a flash light from under the pillow, placed a finger to his lips, and then slipped out of bed to the floor.
Together, we crawled from the bedroom to the top of the staircase. Downstairs the parlor entry glowed like a rainbow. The oversized balsam tree radiated warmth and the record player filled the room with music, 'Santa Claus Is Coming to Town.'
"I think you better check it out. See if you can surprise him." Dad nudged me on.