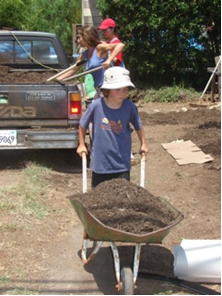 Volunteering can be fun!
The harvest bounty is enjoyed in a number of ways. First there's the abundance of stone fruit, tomatoes, zucchini, peppers of every color, melons and more that are produced from the land.
Garden parties with food exchanges are popping up, such as a recent "waffle party," where folks brought their fruit for toppings, and traded excess veggies, seeds and stories. Each season there's also a Tasting Social & Recipe Swap, where people bring one garden-fresh dish and 20 copies of the recipe to share.
Beyond the actual food, gardeners are harvesting an abundance of new friends as well as the childlike wonder that comes with the miracle of growing your own food. It sounds sappy, but it's so darned satisfying. Who needs the gym when you have a garden?
As autumn approaches, California gardeners will begin planting winter greens, salad makings, broccoli and root vegetable. Since West Coast summers are so beastly hot (90's to low 100's), fall gardens are nice for beginner gardeners. (And it's easier to drum up volunteers for double-digging the clay soil.)
On the East Coast, fall and winter are the perfect time for imagining…pouring over seed catalogues and meeting with prospective Party Crew members who will help create spring gardens on Cape Cod.
The wary or overscheduled family could plan a smallish 4'x10' plot. The bold and adventuresome can start planning a full-on food forest for their front yard, something that will tantalize neighbors to join in the fun.
No matter the size, all gardeners will experience the self-reliant pride that comes from rekindling our agricultural roots.
Dulanie Ellis is a documentary filmmaker whose films about agricultural issues have prompted her to become an Ag activist. She serves on the Ag Futures Alliance for Ventura County and is Chairperson for the Food & Agriculture committee of the Ojai Valley Green Coalition.
Return to Community Action page.