Pill Daze
Living with Alzheimers
by Barbara Strakele
"Why are you asking me again? Didn't you hear what I just finished telling you?" Bob was getting annoyed about my lack of attention during our conversations. With his monthly rotating schedule between Europe and home, he was in a good position to observe changes in Mom and in me; changes which were happening gradually, without my noticing. It was his idea to get away on a vacation, just the two of us.
This Caribbean cruise was to be our first vacation in two years; the first vacation since Mom came to live with us. Preparing for her nine day stay in a respite center during our absence became a bigger chore than I had ever imagined. I packed her clothing and personal grooming items, but the last minute organizing of our medicines, Mom's and mine, unglued me.
Vitamins, calcium, medications for blood pressure, menopause and anxiety. Mom's. Mine. AM.& PM. Thursday pill for osteoporosis to be taken after fasting. Don't take with antacids. Avoid sunning. Take before bed only. Don't drive or operate machinery. Hers. Mine.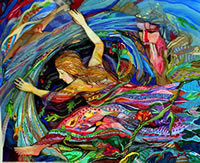 Dying To Meet The Future
by Jacquie Scarborough
Recently in this column, I've been focused on deciphering the next phase of my life. I'm part of a woman's spirit circle and one of the upcoming discussions was about life's passages - what's next? I was very excited since I have put so much energy into pondering this topic after I retired and now I had another opportunity to spend some mental and spiritual energy looking at both what I'm leaving behind and what's ahead.
The quote given us to ponder was "All changes, even the most longed for, have their melancholy; for what we leave behind is a part of ourselves; we must die to one life before we can enter into another", by Gail Sheehy.

Standing Alone
by Beverley Ryle
Journal Entry, 4/28/07
My momma died. In the four days she labored toward her last breath and the three days thereafter, when my father threatened to dominate her wake and funeral as he had her life, the best of my recovery didn't let him strip away her dignity or my ability to be true to myself. I feel joyful, abandoned and sad.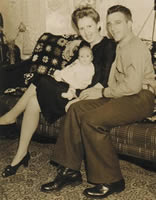 Beverly Ryle with her parents.
Today is the second anniversary of my mother's death and my father's decision to disown me. Both happened simultaneously. Both were inevitable.

Facts about Alzheimer's:
As many as 5.3 million people in the United States are living with Alzheimer's.
Alzheimer's and dementia triple healthcare costs for Americans age 65 and older.
Every 70 seconds, someone develops Alzheimer's.
Alzheimer's is the seventh-leading cause of death.
By 2010, there will be nearly a half million new cases of Alzheimer's each year.
By 2050, there will be nearly a million new cases per year.