Bring Your Own Container
by Lynne Delaney
Last spring, my husband and I traveled to southern England. Among the small knot of buildings in the little village called Widecombe-in-the-Moor was a medieval-era pub, and an important revelation about American eating habits.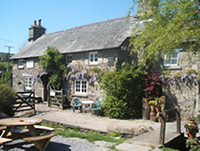 At the charming Rugglestone Inn, we were greeted by the "pub dog," Walter, who would not let us enter the building until we had thrown, and he fetched, an old tennis ball a dozen or so times. We then took one of the four tables in the dining room, where we were served plates filled with beautiful, fresh food, all locally grown and picked earlier that day.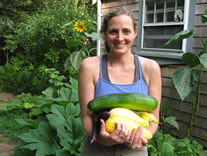 Buying Local: Treat Yourself to the Freshest Homegrown Food Cape Cod Has to Offer
This season, several farmers' markets are scheduled throughout the Cape. Starting soon, all should run weekly through the fall.
Treat your family to the freshest & best Cape Cod has to offer! Soon,, several farmers' markets are scheduled throughout the Cape. Starting soon, all should run weekly through the fall.
Curious about what crops are available during the season? Check out the Mass DAR's market directory
buying guide.
Green Design Options
by Karin Delaney
Healthier Homes for Clients Help the Environment
Sitting down with a client for an initial consultation has always been one of my favorite stages of any new interior design project. So many design style possibilities, so many wonderful materials and product options – the potential space transformations embedded in this nascent phase are positively titillating!

Backache, Beets & Butterflies
by Jackie O'Hara
One Woman's Journal of Becoming
a Gardener
"What if my garden is a failure?" This worry comes and goes as I begin this new adventure in my life. I have a heritage of gardening - both my parents have green thumbs. When I was growing up, my father took care of a large vegetable garden for our family of eight. My mother, an excellent cook, created many delicious meals with our vegetables.

Grow Food Party Crew:
Make Gardening Fun!

Join Cape Women at a film screening and discussion about the Grow Food Party Crew. This playful approach to growing food and building community will inspire you to create vegetable gardens and edible landscaping in you're own neighborhood!
Like an old-fashioned barn raising, transforming work into fun, the Grow Food Party Crew are reweaving the fabric of community through reciprocal gardening.
Friends and neighbors come together with tools, food for a potluck, music to set the pace and a party attitude to create and maintain the gardens.
Keep it fresh, Keep it fun and join the Party Crew!
Contact Heather Blume for details about viewing times and locations:
508 292 1113