Artist Balances Career
and Family
by P.V.Cowan
Eastham artist Norwegian-born Snefrid Sneve-Schultze ("Sissi") is celebrating the acceptance of her portrait entitled, 'Pink Magic' into the prestigious National Juried Exhibition at the Cape Cod Art Association, June 18 through July 3, 2009. "This is my first national show and I am very happy and excited about it!"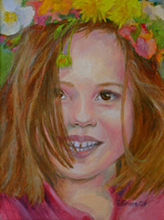 The artist also received an "Honorable Mention" for her portrait entitled 'Kristine' in the winter open juried exhibition at the Cape Cod Art Association in 2008.
Despite Sissi's unflagging commitment to home and family over the past eight years, her dedication and devotion to her art has never wavered.
She freely admits juggling a creative life with motherhood can be challenging and that during the first several years of her marriage her art career was relegated to second place over raising her son, whom she proudly claims as her 'finest creation.'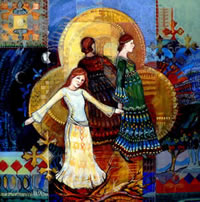 The SheArt Network
by Katie O'Sullivan
Art can often be a lonely pursuit, the artists isolated in their own vision and creativity. A few years ago, Orleans resident Michele Preston imagined a network to connect women artists and artisans with each other. Thus was born the SheArt Network.
Up a hillside on Tonset Road, in Orleans, sits a recently restored 1850s Greek Revival home. Its solid presence and white façade belie the rainbow of creativity found within. Warm and spicy smells waft out of the kitchen area as the sounds of laughter and women eager to talk about their displays fill the air. Hugs of greeting are exchanged along with business cards.
Welcome to the SheArt Network. "The only rules right now," explains founder Michele Preston, "Is that there are no rules. We're an inclusive group and don't have a lot of structural hierarchy yet."What they do have is an abundance of artistic talent, and an open policy for membership.


Nature's Canvas: Celebrating the Environment & the Arts
by Olivia H. Miller
Nature's Canvas is the name of a unique collaboration between Barnstable Land Trust and the Cotuit Center for the Arts. This exhibit will feature seventy Cape Cod-based artists who will depict some of BLT's most pristine land holdings.
Nature's Canvas was an idea BLT Executive Director Jaci Barton had for some time. "We recently marked our 25th anniversary," she explained, "and I thought it would be a great way to celebrate the land we have preserved. It made sense to collaborate with the Cotuit Center for the Arts since they have a relationship with so many artists."
Jamie Wolf, Cotuit Center Founder and Director, agreed. "It seems like a natural relationship. It was amazing how many artists got back to us so quickly and said, 'Count me in!' They really wanted to be part of it and were pretty excited. They were like kids getting ready to go on a treasure hunt when they got their packets of the land they would portray."
"I enjoy painting outside and being close to nature," artist Marian Nicastro said. The land she is painting, Cordwood, happens to be in the village of Cotuit, where she lives. "I was pleased to do Cordwood. I usually paint seascapes and historic architecture. I hadn't gone into the woodlands in a while."