Can You Do Me A Favor?
by Gail Bangert
How 'Time Banking' can transform our Community

The Cape Cod Time Bank has been launched, and it's getting people's attention.
The idea is simple: members give an hour of service to someone else and are entitled to receive an hour of service from another member in return.
If you're new to the concept, you might be wondering, "What's the big deal? Countless organizations already enlist volunteers or even pay people to do the right thing."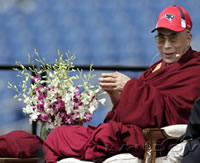 The Dalai Lama Teaches Service at Gillette Stadium
by Nicola Burnell
Warm Hearts Build Community
To call Gillette Stadium an incongruous venue for an audience with the Dalai Lama is a massive understatement. I've seen the Patriots charge across the 50-yard line, and I'm looking forward to taking my sons to the U2 360 concert in September, but His Holiness the 14th Dalai Lama? Are you serious?

Governor Patrick Discusses Tourism, Community & Education at Wequassett
by Nicola Burnell
I recently attended a Chamber of Commerce town meeting at Wequassett Resort and Golf Club, where Governor Deval Patrick discussed tourism on Cape Cod.
While the mood of the meeting was friendly, emotions spilled into the conversation over the gas tax, new room taxes and the wind farm project in Nantucket Sound.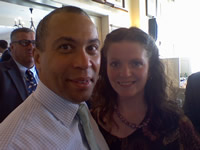 How does Time Banking Work?
In economics, a time-based currency is an alternative currency where the unit of exchange is the person-hour.
Time-based currencies value everyone's contributions equally. One hour equals one service credit.
In these systems, one person volunteers to work for an hour for another person, then they are credited with one hour, which they can redeem for an hour of service from another volunteer.
Read about the 5 Core Values of Time Banking.