Governor Patrick Discusses Tourism, Community & Education at Wequassett
by Nicola Burnell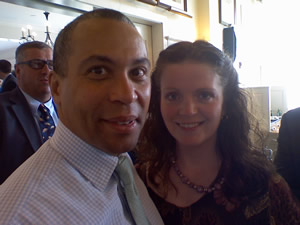 Nicola Burnell meets with Governor Deval Patrick
I recently attended a Chamber of Commerce town meeting at Wequassett Resort and Golf Club, where Governor Deval Patrick discussed tourism on Cape Cod. While the mood of the meeting was friendly, emotions spilled into the conversation over the gas tax, new room taxes and the wind farm project in Nantucket Sound.
Despite challenges to his agenda, the Governor remained incredibly personable and joined in the playful debate over whether Wequassett was actually in Harwich or Chatham, suggesting we call it Charwich, to settle the matter. When fears were voiced about the "Swine Flu" and how it might affect this summer's tourist season, he calmly urged everyone to "take a step back" and not buy into fear.
Pressed to discuss the State budget and community building, Patrick's tone became more serious. The Governor defended his position that cutting education was off the table, declaring early education the key to developing a successful community.
I was encouraged to see the governor willing to listen to all the voices wanting to be heard, whether he agreed with them or not. I hope this is a conversation we continue to have with our government as we work together to improve our community on all levels, and not just the levels immediately affecting us.
Return to the Summer '09 Community Action page