It may simply have been the culture, or philosophy of that particular pub, but we felt as though we had stumbled into a hidden pocket of the world that carried on in a simpler, saner old tradition – and it was fantastic!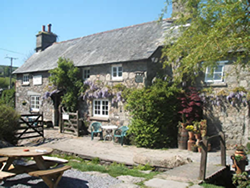 The Rugglestone Inn,
England
"We will return the container tomorrow," we said, but the waitress waved away the promise. "Don't worry about it," she replied.
As we left, I thought about all the take-away containers we use in the United States. The picture of thousands of plastic, Styrofoam and cardboard containers cluttered my mind. On Cape Cod alone there are scores of restaurants, each one sending innumerable boxes, bags, buckets and containers home with their guests.
What if everyone brought their own container when dining out? A little square of Tupperware would do for a casual fish dinner with the family. Or a nice ceramic bowl, with a lid, for a more upscale night on the town. We could match the take out container to fit the atmosphere of the place, or, better yet, be even more conscientious and have a one-container-fits-all policy.
Such a simple solution could do wonders to help create a better environment on the Cape. It could start with the patrons and, hopefully, expand to the restaurants themselves. Perhaps we could launch a "bring-your-own-container" program, maybe with a discount thrown in to sweeten the deal. That way, the savings could be spread around from saving trees, easing the strain on the landfills, cutting business expenses and taking a little off of the bill all at the same time.
To finish the story… The next day, we walked back to the Rugglestone Inn and returned the container. The pub owner was a little surprised, but happy at our gesture. It seems that little village in England has evolved to the point where the dishware itself is part of the take home package. But here, at home, we have to start somewhere. So, the next time you go out to eat, bring your own "take home" container.
Return to the Summer '09 Environment page