CSA: Investing in Your Community
by Katie O'Sullivan
CSA stands for "Community Supported Agriculture," a concept that's been catching on in the U.S. for the last twenty years and has recently arrived on Cape Cod.
What does it mean? A CSA is a pre-paid share of a farm's produce for the season. In essence, the consumer is "sharing" the farmer's risk and being rewarded with the farm's bounty of fresh, local produce and products.
Farms sell a certain number of "shares" in the spring, which helps the farmer's cash flow. Shareholders start receiving their weekly boxes of local, seasonal produce throughout the farming season.
The advantages for the farmers are easy to see. They get to "market" their food early in the year, before their long days out in the fields even begin.
Getting payments early in the spring helps their cash flow and budget planning. They also have an opportunity to make connections with the people who are eating the food they grow, which in turn makes the farmers feel more invested in their work.
Local farmer Victoria Worthington, of Seaweed and Codfish Herb Farm, insists that "CSAs are more important than just food. It's about rebuilding our communities," letting people know there's a "little bit of old-fashioned community left in their town."
Shareholders get to eat ultra-fresh, local food every week and connect more closely with what they are eating. Knowing who grows your vegetables and actually seeing produce on the farm can make all the difference to picky kids!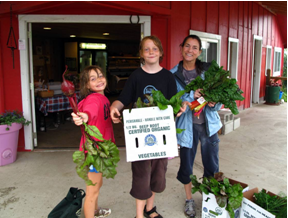 Buying local can be fun.
CSA seems like a simple idea, but the impact has been profound around the country, making a difference for both families and farmers.
According to the LocalHarvest.org website, tens of thousands of U.S. families belong to CSAs, and in some parts of the country there is more demand than there are CSA farms to fill it.
Some groups in Connecticut, for example, have made arrangements with farms in Vermont to fill CSA orders that the local farms can't handle.
The government does not track CSAs so there is no official count of how many exist. The U.S. Department of Agriculture does have pages of information about CSAs, and a long list of publications to help farmers develop and use a CSA business model.
LocalHarvest.org claims to have the most comprehensive directory of CSA farms, with over 2,500 listed so far.
CSAs aren't confined to produce. Some farmers include the option for shareholders to buy shares of eggs, homemade bread, meat, cheese, fruit, flowers, honey, or other farm products along with their veggies.