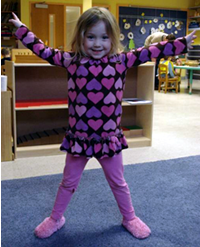 Teaching Yoga to Children: Natural Spirituality
by Jackie O'Hara
I have been teaching Yoga to children, ages two through thirteen, for about six years. It has been a path full of unexpected discovery for me as I have seen time and again, through hundreds of children, the emergence of a child's natural spontaneous spirituality.
Yoga is a practice of breathing, traditional physical poses, and relaxation or meditation. I feel it is essential to include all of these aspects in my children's classes. Parents of children in the classes always ask me about the poses, because these are the most familiar.
But what I have seen with the children is that they enjoy the breathing, poses and relaxation all equally.

Publisher's Note: When should parents discuss sex with their children? In The Condoms Are Next to the Toothpaste, Dr. Elaine Young addresses the conflicts between traditional teachings and sexual health.
Drawing on her thirty years experience of teaching sex education to high school and college students, physicians, parents and the elderly, Dr. Young hopes her book can help Cape Women tackle this often awkward subject within their own families.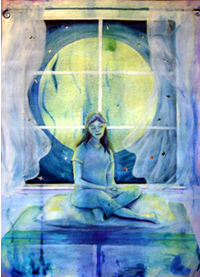 The Realities of
Teen Self-Abuse
"Cutters" is a term used to define children and teens who inflict abuse on themselves, often drawing blood and sometimes ending up in the hospital.
While it seems like a new phenomenon brought on by the modern media, it's actually a sad phenomenon that has been in the shadows for many years.
Drawing on her own experiences from childhood into her late twenties, Connie Hanagan wrote her self-published book Look Beyond the Scars to help teachers and staff understand what children who self-abuse may be going through.
Her goal is to speak at schools, and to use her book to reach out to troubled children and the adults who care about them.
Connie spent the best part of her youth in Boston hospitals, enduring neglect, abuse, occasional compassion, and most of all loneliness.
Now, as an adult, she is letting today's youth know what she went through, and why, and how she was able to recover and to build a productive and happy life for herself and her son, James.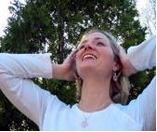 A Message from Spirit
Channeled by Lynne Delaney
Awakening Possibilities through the Tumult of Loss
My dear precious ones, have you been in a quagmire of pain, grief, loss or separation?
For many, it has been a long winter filled with obstacles and unwanted circumstances. And, for a time, the painful feelings must take precedence.
They become the atmosphere of our experience. If we are not careful, we might come to believe that dark skies are all that there is.
However, it is the nature of clouds to come and go across the sky. They never obliterate the light; only obscure it for a time. In the moment when they release their hold, who does not smile at the reemergence of the sun?
In a way, clouds drift by to remind us to rejoice in that ever-present illumination that is the true back drop to the sky. That is their gift to us.