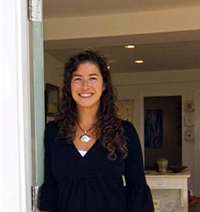 The Sands of Cape Cod Always Bring You Home
by Jen Villa
"The Sands of Cape Cod Always Bring You Home." That's a line running through one of the pieces of art I created a few years ago. Little did I know I was predicting my own fate. Now, 23 years after my first summer residing on the shores of Cape Cod Bay, I have returned home.
Growing up summering in West Hyannisport, I was a beach baby from day one. Crossing the bridge from my home in Central Massachusetts every June was my favorite day of the year.
Subsequently leaving the Cape on Labor Day became the worst. Upon graduation, my parents sold our childhood home and the summer house by the beach became home.
Growing up summering in West Hyannisport, I was a beach baby from day one.

The Art of Suzanne M. Packer: Capturing the Color, Light and Movement of Cape Cod
by Nicola Burnell
The vibrant artwork of Suzanne M. Packer is inspired by the landscapes, moods and ever changing light of Cape Cod.
In compositions that capture her love for the complexities of human emotion, color and form create a response to an environment that many Cape residents may take for granted.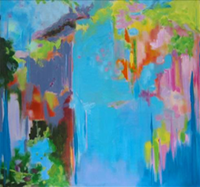 Cape Waters VIII, oil on linen
"I am very fortunate to have had the opportunities to paint the wonderful views of the Cape over the years. Painting the same places over and over always shows me a new insight, a new perspective on the subject," explains the award-wining artist.
"I learned this at The Rhode Island School of Design when we were given assignments that would use the same object many different times and in many different ways."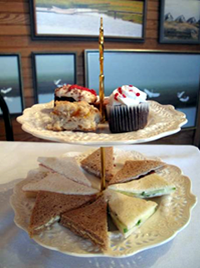 Take Time for Afternoon Tea at the Borsari Gallery Village Tea Room
by Nicola Burnell
When I received a gift certificate for Afternoon Tea at the Village Tea Room at Borsari Gallery I was absolutely thrilled to learn that a Tea Room had just opened up on Route 6A, in Dennis.
For an English woman who begins every day with tea served in Royal Albert fine bone china, this was the perfect gift.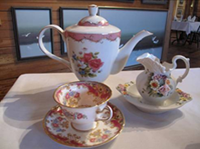 Mix and Match China
The tradition of serving Afternoon Tea dates back to the 1800's, when the Duchess of Bedford began inviting friends to join her for tea and light snacks to tide them over until suppertime. What was once a very British event is now gaining popularity in the United States.
Our Afternoon Tea couldn't come soon enough for me. Anxious to see if this was "the real thing," my friends and I met at the Borsari Gallery within the week.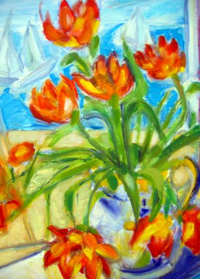 Tulips By the Bay, oil on canvas by Suzanne Packer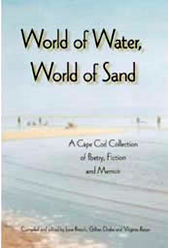 An anthology of poetry, fiction and memoir about Cape Cod.
Available at bookstores or email
GillianHDrake@aol.com