The Realities of Teen Self-Abuse
"Cutters" is a term used to define children and teens who inflict abuse on themselves, often drawing blood and sometimes ending up in the hospital.
While it seems like a new phenomenon brought on by the modern media, it's actually a sad phenomenon that has been in the shadows for many years.
Drawing on her own experiences from childhood into her late twenties, Connie Hanagan wrote her self-published book Look Beyond the Scars to help teachers and staff understand what children who self-abuse may be going through.
Her goal is to speak at schools, and to use her book to reach out to troubled children and the adults who care about them.
Connie spent the best part of her youth in Boston hospitals, enduring neglect, abuse, occasional compassion, and most of all loneliness.
Now, as an adult, she is letting today's youth know what she went through, and why, and how she was able to recover and to build a productive and happy life for herself and her son, James.
"There are many reason why children and adults self abuse," says Connie. "When I was in school, I was a slow learner and was put in a 'special' class. Back in the 1950s, special classes were clearly designated for dummies. I was ridiculed, picked on and bullied by my peers."
She adds, "I hated myself."
At the young age of eight, Connie was sexually molested by a male neighbor. She says now, "I did not know what sex was, but something told me what he was doing was very wrong and I was afraid to tell anyone." The fear added to her self-hate.
"Perhaps," she adds, "I kept silent because of my strict Irish Catholic upbringing where love and affection were rarely shown. I grew up with the fear of burning in hell if I did anything wrong, like most Catholics did back then."
Look Beyond the Scars chronicles the bullying and abuse Connie endured both in schools at the hands of other children, and in the mental hospitals that the courts sent her to for "recovery," where she was at the mercy of doctors and nurses who didn't understand what she was going through.
"I believe that part of my recovery was that I grew up," says Connie. "I matured, and began to find my voice and was able to talk to people about myself. I started to realize what I had been doing to myself and truly wanted to stop. I stopped because I wanted to stop, I also had my son, James, and I definitely knew I did not want to have him pattern my behavior."
Now she hopes to help others end their patterns of abuse, and to help people understand what these children and teens are going through.
"What worked for me stopping might not work for everyone," she says. "But they have to know it's possible to get beyond the behavior. To find a life without abuse."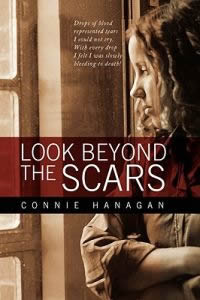 Look Beyond the Scars
by Connie Hanagan
is available at Amazon
Email Connie feet2happy@aol.com
For more information on cutting
visit www.selfinjury.com
1-800-DONTCUT