Healing and Health Following Ovarian Cancer
by Carolyn S. Ellis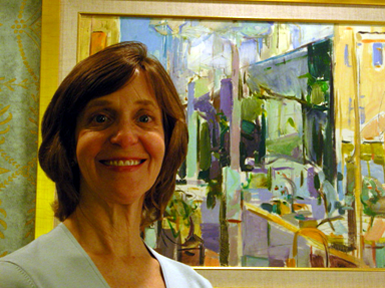 Carolyn Ellis
Orchard Avenue is one of my favorite walks. The narrow lane winds through a quiet neighborhood, with homes widely spaced and set well back. The widest curve skirts a meadow that's just right for sledding.
Blustery winds often race down the hillside and whistle through a tall grove of hemlock and white pine. The sound of the wind in the branches and its feel on my face take me back to a favorite story from childhood, Heidi, by Johanna Spyri.
In this late 19th century Swiss classic, the orphaned child Heidi is brought to live with her reclusive grandfather, known as Alm-Uncle, in his cottage in the Alps. Heidi befriends the lonely shepherd Peter and the goats he tends. After a time, Heidi is taken to Frankfurt to live with a wealthy family and their daughter Clara who cannot walk.
Heidi learns to read but is terribly homesick, so sick that the adults decide she should return to her free-form life at Alm-Uncle's. Summer comes, and Heidi's dream comes true when Clara in her wheelchair comes for an extended stay. After jealous Peter sends the wheelchair crashing down the mountain, Clara discovers that she can walk.
As a child, I loved the cheerful and complex heroine, beautiful mountain setting, and happy ending. I could easily imagine myself at Alm-Uncle's small cabin sheltered by tall spruce. I could smell the meadow grasses and flowers, feel the warm sunshine, and hear Peter calling to his little herd.
My edition of Heidi had a few beautiful illustrations, each painting a delight after pages of text. There was plenty of space for a child's imagination to soar as she read the story.
As an adult, I have come to see Heidi as a healer, the first I can recall. Heidi paves the way for invalid Clara to stay with her and Alm-Uncle on the mountainside. Heidi seems instinctively to know that Clara could walk again, and she herself has experienced the joy and misery that come from different environments.
There probably was more to Clara's visit than leaving the city for the countryside. Perhaps she got away from a home infused with discouragement and resignation. Maybe drinking fresh goat's milk was beneficial. Certainly when her wheelchair tumbled down the mountain, Clara had extra motivation to walk.
But most important, Heidi's belief that Clara could walk again let Clara see the possibility. As a child I loved the idea that one could get well. I shared Clara's and Heidi's triumph when Clara walked.
More than 30 years later, when my daughter was about Heidi's age, I was diagnosed with ovarian cancer. That was life-changing, as women who have received a cancer diagnosis know.
Surgery and chemotherapy treatments, although difficult, went well. I was grateful for the fortunate outcome, but I faced an uncertain future. The odds of making it to five years were somewhat better than two in ten.
Unable to "go home and forget about cancer," as my surgeon recommended, I needed to do something. Since my doctors offered no after-care besides frequent monitoring with the CA-125 blood test, "get well and stay well" became my mantra.