Polar Bear Plunge
by Mariah Orchid Kelley
I'm walking down the beach, buttoning up my jacket against the sea breeze, and I cross paths with the Grim Reaper, three pirates, an astronaut, and a six-foot-tall black dog. It's okay, though, they're perfectly normal.
Today I've chosen to attend the Polar Bear Plunge, and event where a bunch of crazy costumed locals jump into the sub-zero temperature water in a frenzy of chattering teeth and blue lips.
I stand in the crowd of bundled-up onlookers snapping photos of some of the costumes, when an elderly woman next to me turns to her husband. "I'm getting cold just looking at them," she whispers to him. He smiles. "Brave kids," he muses quietly.
Several of the plungers were students and faculty from Sturgis Charter School in Hyannis, with jumpy eyes and nervous laughs they interacted and eyed the ocean hesitantly.
"This is pretty crazy," one of them admitted. "I mean, right now we could just pretend that we're in the Bahamas. That would be really nice."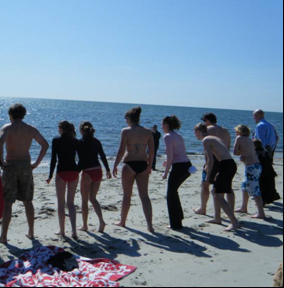 The Polar Plunge took placeat noon on Sunday, March 7th, on West Dennis Beach.
Photograph by Mariah Orchid Kelley
Soon enough they were all lined up. Some in bathing suits, others still in costumes.
There was no buzzer or countdown or anything like that. Nervously, everyone looked at one another, as though to gauge who would give the ultimate signal.
But then, suddenly, it was a mad dash to the water complete with shrieks and yells and exclamations of the most popular four-letter word of the day, "Cold!"