Teens take the Driver's Seat:
Youth in Progress Driving School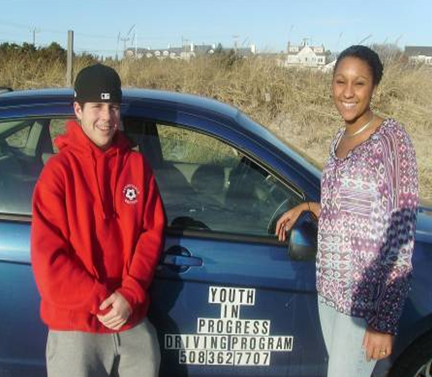 Youth in Progress Students
In the fall of 2007, the Massachusetts Registry of Motor Vehicles (RMV) enacted new laws about teenaged drivers. The RMV now requires teens under 18 years old to earn a Driver's Education Certificate in order to obtain a driver's license.
The cost of driver education programs has doubled since September of 2007, so many teens are unable to obtain a driver's license. This precludes them from driving to school, obtaining jobs, and participating in community activities.
The Youth in Progress (YIP) Driving School, supported by the Robert F. Kennedy Children's Action Corp, is offering driver's education to area teens at a reduced fee in exchange for participation in community service activities.
Kathy A. Felt, the Southeast Area Director for RFK, is responsible for the development of new programs and has oversight of existing programming in the area. "We saw a need for an alternative to the mainstream driver's education programs out there because too many of the kids we work with were not meeting the important adolescent milestone of obtaining a driver's license."
The YIP Driving School supports RFK's commitment to provide innovative, accessible and affordable programming for youth. "YIP is right in line with the RFK agency's mission of helping kids reach their full potential," says Kathy. "The kids benefit by not only obtaining their license, they also have an opportunity to give back to their communities as well."
In order to participate in the Driver's Education offered by YIP, teens are required to participate in community service learning projects such as food drives, volunteering at local senior centers or working at shelters.
"This program provides driver's education at a reduced rate, with an interactive curriculum to meet every teen's learning potential in exchange for their participation in a community service project." Students have the opportunity to design and execute their own community service project prior to obtaining their driver's education certificate.
The law states that any person in Massachusetts between the ages of 16.5 and 18 years old who have been issued a Learner's Permit must complete 30 hours of classroom training, 12 hours of behind the wheel driving instruction, and 6 hours of observation, and their parent or guardian must also complete a two-hour parent/guardian class.
The program at the YIP is a two phase, integrated, 12-week program that is taught concurrently. Month-long classes meet three days a week for three-hour sessions.
YIP is still a relatively small program, but a recent move to a larger location could enable the instructors to reach many more students. "We are not looking to put other driving programs out of business," assures Kathy, "but we do want to meet a growing need for kids on the Cape."
Return to Community Action page