Cynthia decided to start her own program.
She enlisted her friend and local seamstress June Eldredge to create costumes at her shop, Rags and String (23 Jarves Street, Sandwich.) The outfits consist of cheery blue sunflower-covered dresses, white aprons with sunflowers embroidered on them, and straw hats.
Once a month, the Sunflower Sisters make their rounds. The Sisters greet each patient with a smile, handing out small tokens like fabric sunflowers with smiley faces, or beanie babies. "The response is just incredible," says Cynthia.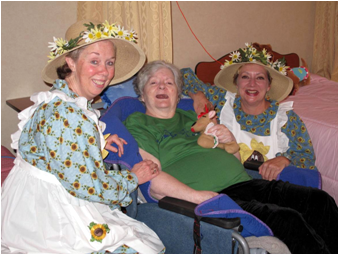 The Sunflower Sisters with Helen
Patients who interact with them, or even just see the Sunflower Sisters, show a visible lift in their moods. "The costume, the look, engages people and they perk up. It's not a show, we don't sing and dance," she explains. "We go in and reach out to people. It's the gentle touch and the eye contact that comfort the patients."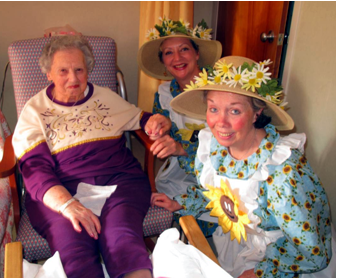 The Sunflower Sisters with Trudy
Cynthia would love to see the program expand over time, and have more pairs of Sunflower Sisters visiting Cape Cod patients. "As a volunteer coordinator, I feel like I'm a privileged person. I get to meet so many wonderful and energetic people." She's sure there are other "Sunflower Sisters" out there.
Beacon Hospice serves patients in the last six months of their lives, with goals of reducing pain and symptoms as well as making patients' lives as comfortable and fulfilling as possible.
For more information about Beacon Hospice and/or the Sunflower Sisters, please call their Yarmouthport office at 508-778-1625.
Return to Community Action page