Painting with Watercolors with Jean Tucker
6 Mondays, January 6-February 10. 9:30am–12:30pm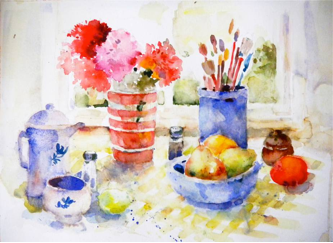 Suitable for all levels of painters. In this class we will work from individual objects and concentrate on creating a strong light source. We will gradually move on to simple still life subject matter and then perhaps to abstraction, depending on the interests of the participants.
I love painting fruit, vegetables, cups, pitchers and other things from the kitchen. These everyday items can make charming paintings. If you want to bring flowers, we will be painting them one at a time and then in groups. Please bring your special objects to add to the painting session.
$165 non-members, $135 members.
Color and Composition with Suzanne M. Packer
Wednesdays, Jan. 8, 15, 22, 29, Feb. 5, 12. 9:30am-12:30pm.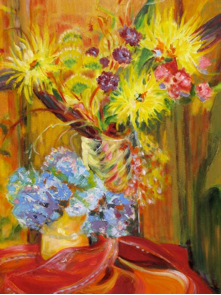 This class will help you create paintings that have visual movement, paintings that have the viewer's eye move across and around the canvas, this is the focus of the class.
Learn to develop a composition that works within the plane of the canvas. Learn to use color harmonies, color temperatures, textures and composition to create visual interest.
All skill levels are acceptable as there will be much individual instruction and tutoring along with group discussions and critiques.
$180/$150 for members of the Cultural Center. (Note: a $40 yearly individual membership will nearly pay for itself with registration for this class.)
To register for any the above programs call 508-394-7100. For full program listings visit www.cultural-center.org.