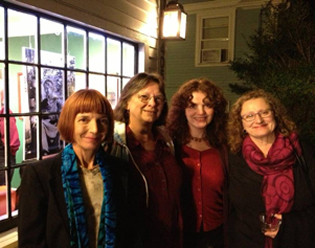 L-R: Jane Anderson, Jane Schaller, Nicola Burnell & Kim Baker
90 YEARS LATER…The Triumphant Return of Edith Lake Wilkinson's Art to Provincetown
by Nicola Burnell
The opening reception of this historic exhibit at the Larkin Gallery in October was unlike anything I've ever experienced before. Not just because it was the long awaited big reveal of Edith's sun-dappled, inspirational work that had been packed up in trunks for decades, but because it felt like a reunion of old friends.
This night would never have happened had it not been for the incredible response of everyone who heard Edith's story. In the Winter 2013 issue of CWO I published an article by Jane Anderson, Edith's great niece. You can read her article, Packed in a Trunk, to get the sordid background behind this incredible exhibit, and see why so many people were determined to make sure Edith's work was finally shared with the world.
A constant stream of art lovers flowed through the gallery from the moment its doors opened at 7pm until long after they were meant to have closed. A black and white portrait of a smiling Edith sitting on a porch not too far from the gallery captured the triumphant energy of the evening. Her smile was echoed in so many faces as they viewed her work in person, for the very first time.
"Recognition is long overdue, and the large crowd at the exhibit was part of that recognition," says artist Marlene T. Bell. "Her show was well worth the trip, exhibiting both an innocence and personality. The pictures of women and children echo Mary Cassatt, the town paintings, perhaps Matisse. The particular style known as 'mudhead' I recognized, because I had seen it in the work of Leon Gaspard, who worked at a similar period in Provincetown, but later went to Taos."
Poet Kim Baker was moved to tears when she first set eyes on Edith's work.
"When I saw the work in person, I was overjoyed and so moved. I cried at the beauty and elegance of the paintings framed. I had previously seen them only online on the Edith Lake Wilkinson website. To see the paintings as Edith would have seen them, and then to see them on the walls of the gallery, made me feel part of the creative process Edith began but never got to see the journey of, from canvas to frame to exhibit."
Kim had "happily" travelled from Rhode Island for the reception to be part of Edith's first one-woman show. "The idea of a one-woman show in Provincetown was so compelling to me that it turns up in the poem I wrote, Painting in the Latch, inspired by a painting of Edith's.
"Sharing one's creativity is such a sense of communion, of sharing the conversation begun by the work of art with others, who will join the conversation and keep it going," notes Kim. "Edith's conversation with the world was interrupted when her work was packed in trunks and put away. And now, we are blessed to be entering the conversation about life that Edith began."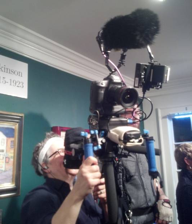 This conversation will be forever preserved in a documentary film that was being recorded during Edith's opening reception. Edith's niece Jane is an Emmy Award-Winning Writer and Director, and with her film crew Greenie Films 'Team Edith' captured the magic of this sacred moment.