The Art of Holiday Baking
Readers share their Creative Holiday Recipes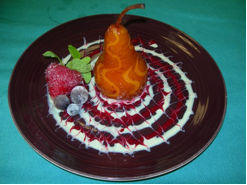 Poached Pears with Flair
From the kitchen of Deb Flohr
Poaching Liquid:
2 cups water
1 1/2 cups sugar
Zest & juice of 1/2 lemon or orange
1 cinnamon stick
4 Bosc pears
Combine water, sugar, zest and cinnamon stick in saucepan and bring to a boil; lower to simmer. Peel and core pears, rub with citrus juice and add to poaching liquid.
Place a round of parchment (pre-cut to fit pan) on top of pears and liquid to keep pears immersed. Poach until pears are tender. Remove from liquid and cool on rack.
Once cooled use citrus stripper to decorate pears (swirls, dots, imagination).
Pastry Cream:
2 egg yolks
1/3 cup sugar
2 Tbs cornstarch
1 cup whole milk
1 tsp gelatin dissolved in 4 tsps water, heated until melted
1 tsp vanilla extract
1 Tbs liqueur (Calvados, Kirsch, Poire Williams, St. Germain, Gr. Marnier)
Ribbon egg yolks, sugar and salt.
Dissolve cornstarch in ¼ cup milk and add to egg mixture.
Add remaining milk and bring to boil, whisking constantly until boiling. Stain, add gelatin, vanilla and liqueur. Chill.
Berry Puree:
6 oz berries (fresh or frozen)
1 Tbs liqueur
Sugar to taste
Puree berries and liqueur; add sugar to taste. If berries are frozen, thaw (saving liquid) and puree with liqueur; add sugar to taste plus additional liquid if needed.
Crème Anglaise:
3 egg yolks
¼ cup sugar
¾ cup milk
1 vanilla bean (or 1 tsp vanilla extract)
Pinch of salt
Heat milk with vanilla bean and seeds until scalded then cool slightly.
Using electric mixer whisk egg yolks with sugar and salt until pale yellow and ribboning.
Pour milk over ribboned egg mixture in steady stream. Return to medium heat and stir constantly until smooth and mixture coats back of a wooden spoon.
Be sure not to boil or mixture will curdle.
Strain mixture into a bowl set over an ice bath.
If using vanilla extract add at this point.
Assembly:
Pipe pastry cream into pear core; plug core with berry. (For a shiny lacquered look melt fruit preserves and brush over pear).
Ladle crème Anglaise in circles on plate; Drizzle berry puree in between crème Anglaise.
Drag toothpick through circles to create design.
Place pear in center of plate.
Garnish with fresh mint and sugared berries.
For more recipes by Deb Flohr visit her website
debflohr.com