Former Teachers Embark On Cutting Edge Business Opportunity
by Diane LeDuc and Stephanie Boosahda
When Stephanie Boosahda and Diane LeDuc first met at a book club meeting, seven years ago, neither would have guessed how their relationship would morph and evolve.
The fall of the economy of 2008 left us both jobless. We'd commiserate after book club, "Being poor bites" was our common mantra. The other book club women were going to theaters and restaurants; we were a couple of Cinderellas.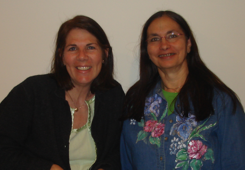 Our fairy godmother arrived last fall in the form of a business opportunity. Mind you, by then, we both had new jobs, but neither of us was making the kind of salary we'd been enjoying as teachers before the Wall Street debacle. And then, along came Viridian.
Viridian is an electric supply company like no other. Its tag line is "Power with Purpose" and their mission is "greener electricity at an affordable price." Viridian offers customers a way to clean the environment without lifting a finger, and it offers people a chance to successfully create a business of their own.
No prior experience needed! New associates are provided with a wealth of materials, educational seminars, and a support system; the training and guidance opportunities are varied and plentiful.
The Viridian business model is a traditional direct sales model – similar to Avon, Tupperware, Lia Sophia and others in the multi-level network marketplace - yet the Viridian business opportunity is also very different. Having the opportunity to "sell" a commodity like electricity is cutting edge. Deregulation rocks!
As Viridian associates, we're part of an educating business, not a selling business; no money is exchanged, and no products need to be ordered or carried around. Yes, the Viridian business is very different, as many experts agree, including billionaire Warren Buffet, "Energy deregulation will be the largest transfer of wealth in history."
Diane jumped on the Viridian train first. "Being an Independent Associate for Viridian has Me written all over it," she told Stephanie. "If I can't save the world one student at a time, the next best thing is to save the world one meter at a time," and in September of 2012, Diane began her new business adventure with Viridian.
Stephanie recognized the beauty of the business right away and, at first, signed on as one of Diane's customers. Starting as a customer was perfect for Stephanie.
When she asked Diane, "What would be a reason to not become a Viridian customer?" and neither of them could come up with a good reason, Stephanie changed her electric supplier to Viridian.
Shortly after, Stephanie realized how the business set-up is ideal. In addition to benefiting as a Viridian customer, saving money over time and helping to green the environment for her children and grandchildren, as an associate she can also make money sharing this opportunity with her family and friends. So she became an associate on Diane's team.