Our cottage had two bedrooms, each with an entrance into a small bathroom. My Dad was a master plumber, but I could never figure out why he hadn't enlarged this room for our family of six. Then early one morning, I pulled back the shower curtain, turned on the faucets and stepped inside the stall. Lathered with soap, I'd tossed my head back to rinse my hair.
As I'd wiped the water from my face I'd found myself staring into the eyes of the black dare devil who'd just bungee jumped from the ceiling. My elbow had hit the side of the metal coffin and echoed back with a clang. The vinyl curtain had clung to my leg as I'd tried to escape.
I'd screamed like a banshee and flew into my parents' bedroom. It became clear to me that Dad could never plumb under this house because he'd be eaten alive by the spiders!
My parents eventually calmed me down then shared some golden words of wisdom: "Debbie, fear no spider. Remember that your feet are bigger than they are so, just swat and squish them!"
Were they kidding? Did they not read Charlotte's Web?
Spiders hatched by the hundreds. You can't kill them all! But I knew I had to be a brave little trooper if I was going to enjoy my summers on Sebago Lake. I had more adventures ahead of me, and there was no way Miss Muffet's foes would rule my summer days again.
Eventually, I realized that my parents were right. By age twelve, my foot had grown to a size ten, and the brown and black juices of my arched nemesis often colored the bottom of my summer sneakers.
Photographs courtesy of Debbie McNaughton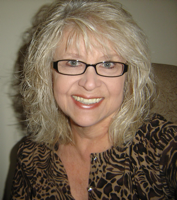 Debbie McNaughton is a writer of short stories drawn from everyday life. She is a Member in Letters of the National League of American Pen Women and a member of Cape Cod Writer's Center.
Debbie is a regular contributing writer to CapeWomenOnline and has also been published in Seeing the Everyday magazine.
Debbie and her daughter have lived on Cape Cod for 10 years. They collect mermaids, listen to loud rock music and dream of owning a red corvette.
Debbie welcomes emails at dmbysea@gis.net