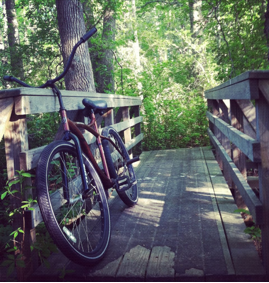 The Cape Cod Rail Trail
Your Scenic Escape From Summer Traffic
by Grace finch
As I walked along the bike trail, in Brewster, I was enjoying its beauty when I felt a deep connection to its history. So I decided to research the role this route had once played in Cape Cod's development when it was in use as the old Cape Cod Railroad.
From its arrival in Sandwich, in 1848, the Cape Cod Railroad played a varied and vital role on Cape Cod; its 94 miles of track connecting Buzzards Bay, Woods Hole, Hyannis and Provincetown. The rail service encouraged tourism by providing reliable transportation for visitors and for the goods to fuel the growing economy.
One of the Cape's earliest rail travelers, in 1849, was is my favorite nature writer, Henry David Thoreau. I was pleasantly surprised when my research revealed that Thoreau had written a lot of stories about the railroad.
He actually wasn't very fond of the new transportation as he thought it represented a "loud, rapid, unclean, indelicate drive of technology." He also said "it contrasted with his own inward and organic drive toward simplicity." Thoreau believed the train and all developing technology was a distraction.
The most important issue for Thoreau, however, was "the way the train interacted with nature." He disliked the railroads "interruption with the flow of nature." He once complained that "the whistle of the locomotive penetrates my woods summer and winter."
The one thing that Thoreau DID like about it was the fact that "it brought people to new places and in the process to have new thought."
Thoreau used the train many times to come to Cape Cod and explore and write about the Cape's beaches, woods and nature. All things that are also of great importance to me.
By 1959, the railroad was no longer used as a passenger service because the automobile offered independence from the train schedule. The railroad track was reduced to 38 miles and mainly used for delivering cargo and goods until the late 1960's, when it was shut down indefinitely.
In the mid 70's, part of the tracks were torn up and all station houses removed. Shortly after that the trail was paved, piece by piece, throughout each town, to be used primarily for recreation.