Living Whole: Caterpillars and Butterflies
by Maggie French
"It has been said that something as small as the flutter of a butterfly's wing can ultimately cause a typhoon halfway around the world."
There is so much insight we can gain from nature. Our challenge is to be open and aware to its lessons. Waves of air. Waves of water. All begin with transformation.
I came across an image of a Monarch butterfly with its wings spread open on a white flower, the proverbial representation of transformation and inspiration; a symbol of change, of freedom, of the Self reborn.
So what of the caterpillar? Is the caterpillar the unrealized Self of the butterfly? Is it undeveloped essence - something to "grow out of?"
The transformation of a butterfly begins inside then slowly radiates throughout its entire being, such that its outward physical presence is completely transmuted. It's a miraculous change – poetic. How ethereal this metamorphosis that we dare to dream for ourselves.
A caterpillar begins as all life does - a spark ignited by the energy of the Universe. It is born into this world clinging to the backside of a leaf. Its every sustenance is found in branches, leaves and bark as it moves through its world, safe and secure in the confines of what it has known since birth. It explores and grows where it is. Where it is going does not yet exist. The butterfly it is to become is an unknown future.
We, too, are unaware of the butterfly within that begins to change us on the inside. As with the caterpillar, our transformation is inevitable.
We are continually in a state of change. We may resist adaptation because we are uncertain where it will take us. We may view transformation as enlightening and empowering, or as diminishing and taking something familiar away. It is our choice how we exist in change.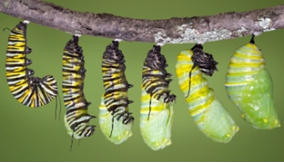 The caterpillar begins its transformation by enveloping itself in a self-contained shell. Within the silky threads of its cocoon, it is more vulnerable than when it hid from birds and rodents in the tree, yet it trusts the Universe to protect it during its time of change. It exists only in the moment, knowing only its encasement, the Universe, the security of the tree branch . . . and it waits. This metamorphosis is its destiny.
In our greatest moments of change we, too, are detached from our perceived safety. How our transformation is perceived is what provides the subjective judgment of change being "good" or "a mistake." We can look back and make judgment on what we've become, or look forward and make a prediction about what we will become. To the caterpillar/butterfly the change is neither good nor bad. It simply is.
We are transforming every day, the essence of which occurs only in the moment. Like the butterfly emerging from a cocoon, we will know something is different but might not be able to articulate what that difference is.