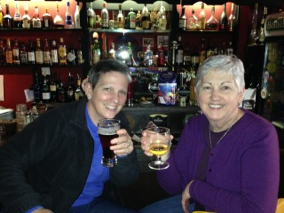 Mary-Elizabeth & Christine Briscoe in Ireland
I leaned forward in my seat, waiting to hear what it was that "we could do."
"Live here. For one year. We could take a year off and move here," she suggested.
"Yes. That's a perfect plan. We could experience the seasons of weather and culture, get to know the people, the language, all of it," I said, knowing in every cell of my being that this was the next part of my life's journey. I felt ready to start that very moment.
Fortunately for me, Christine does not share my impulsivity. She is much more practical and level headed. We often joke that I'm the right part of her brain and she's my left. That we are, in fact, one person that somehow got split in two; but that's another article.
"Yes! This is the very thing we are meant to do! There is so much to be learned, experienced, and understood. It's absolutely what we must do."
It was obvious that our hearts and souls were linked in this very spiritual, transformative journey in a way we haven't yet begun to fully understand. The question before us now was when and how to make this plan happen?
There was no doubt for even a second that we would do it. Only the logistics needed to be worked out. Would we wait until we were closer to retirement age? Would we leave while our elderly parents are still alive? And what if something happened to them while we were away? What would we do with our homes? Our jobs?
Just as quickly as the idea had come, the confirmation followed. I hate to put too much stock in quotes I read from beer coasters in Irish pubs, but this one came as no coincidence: Now is the then we were waiting for.
Life is precarious and one never knows from day to day what will happen, so we agreed not to wait for some "perfect" time. The perfect time was at hand.
After all, Christine reminded me, one of her favorite songs is The Cape, written by Guy Clark, Susanna Clark and Jim Janosky, and recorded by Kathy Mattea.
It tells the story of someone who, full of energy, spit and vinegar, jumps off garage roofs with a flour sack cape around his neck because he doesn't know he can't fly! It's filled with great imagery about taking chances, trusting your cape and, of course, flying. This is what she wanted. This is what we both wanted.
We do, of course, have to spend some time getting everything in order before we can leave, but we will spend our year in Dingle! We will experience life there and we'll share our stories along the way. After all, storytelling – myth and history - is part of this journey.
All Photographs courtesy of Mary-Elizabeth Briscoe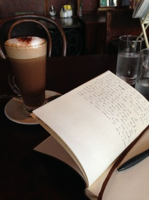 Read Mary-Elizabeth's blog