Why 'Now is the then we were waiting for'
by Mary-Elizabeth Briscoe
At first glance, ours might read like the typical bucket list story of two middle-aged women packing up and moving to a foreign country. But it's not. Living in Ireland was never something my sister Christine and I hoped to do one day before we die.
It wasn't something to tick off the wish list of "maybe someday" events. Instead, the idea is one deeply rooted in the connection we each have for the tiny town of Dingle, on the southwest coast of Ireland.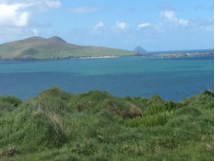 For me, it started eighteen years ago, on my first visit to Ireland. As the plane approached the runway, I saw patchwork green fields speckled with white dots that turned into sheep as the plane came to rest on the tarmac. I noticed my body relax and soften as tears welled in my eyes. "Home," I whispered.
Something ancient had stirred deep within and was awakened; a spiritual connection to the place, the history, its people. Some have suggested perhaps a past life. Maybe. All I know is that every time I'm in Ireland I have the exact same experience. I can't explain it or even understand it. I just know I am home …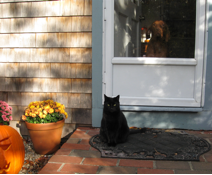 How I healed myself from a severe cat allergy with love, determination and Holistic Health
by Lynne Delaney
I had always wanted a black cat since I was a little girl, but that was not an option for me as I had severe allergies and got asthma attacks from cats, a reaction so strong that it occasionally sent me to the hospital. My symptoms started when I was a child and were confirmed by allergy tests. So I had to settle for a stuffed black cat.
I missed out on birthday parties and play dates with friends who had real cats in their homes. As an adult, I got tired of turning down invitations. I defied my allergies and visited my friends who were cat owners. But I could never stay longer than 20 minutes before my asthma kicked in, and it would take days of medication to recover.
Over time, my desire to have a black cat began to wane. Then one night, my husband Josh and I were finishing dinner when we heard a knock at the door. We were surprised because we'd recently moved in and did not know many of our neighbors. Glancing through the door we saw no one. Then there was another knock and this time we saw a little head peering in the window of the door. …
by Saralee Perel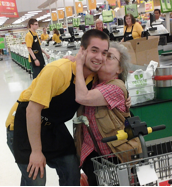 When I told my husband, Bob, what I've been doing, he said, "If you tell others, they could feel as good as you."
I have a crush on Jared Whittemore. (Sorry Bob.) We met when he worked at Stop & Shop in Marstons Mills.
While I was awkwardly moving groceries from my motorized shopping cart to the conveyor belt, Jared, without me asking, took over and did it for me. He then insisted on taking the bags to my truck.
"I have nothing to give you," I said.
"I wouldn't take a thing from you. I love helping."
"Then who's your manager? I've got to tell someone how amazing you are."
He was too shy to tell me.
I teased him. "I'll find out anyway."
He still wouldn't say. Then I felt too timid and lazy to go back in the store. So I gave myself one of my talks: "Any action, no matter how seemingly small, can change a life."
What motivates me to break through my bashfulness and do-nothingness? …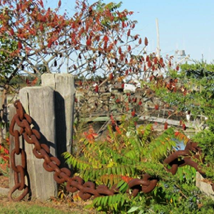 by Debbie McNaughton
Welcome to Cape Cod. I passed the sign; the Bourne Bridge looming large before me. Gripping the steering wheel of my rental car, I entered the rotary full throttle.
At last, I'd returned to my Massachusetts roots to spend a week's vacation in Sandwich. I'd just shed 220 pounds, my worst half, through a grateful divorce, and was looking forward to spending time by the ocean with my friend, Paula.
Twenty years ago, I had followed a dream of adventure and moved to Wyoming, got married and embraced a life far from my beloved New England.
The smell of a summer now over filled my vehicle as I turned onto Emerald Way and crushed the swirl of fall leaves under the tires. I pulled up in front of a weathered cedar shingled house where Paula rushed out to greet me.
"Welcome home, Deb. Finally, you're here! Come on inside and relax."
Together we carried my suitcases and settled down for a long afternoon of memories …