It's The Food, Stupid!
by Janet Eckhoff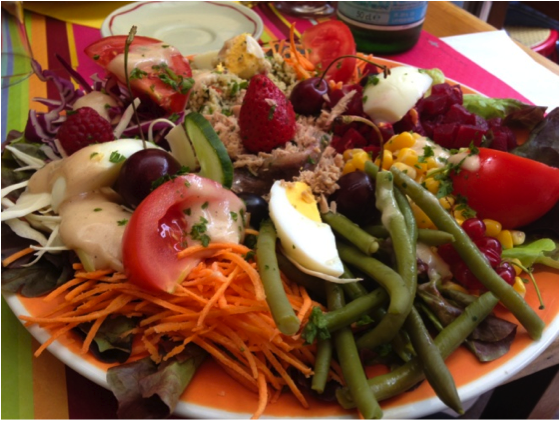 A lunch of Nicoise salad (tuna).
When Mireille Guiliano published French Women Don't Get Fat: The Secret of Eating for Pleasure, she began a conversation about food, lifestyle and health that might just be worth paying attention to.
This summer, I spent two weeks in France, the land of cheese, pate, bread and croissants, and even though I partook, I lost weight. This happened when I was in France two years ago, too.
I've always been interested in food, especially over the past two years. My family is rife with diabetes and my mother had severe Alzeimer's before she passed away, two summers ago.
I have the perfect apple-shaped diabetes body, and while my doctors have indicated that I've been pre-diabetic for about ten years, I've been able to stave it off, so far.
My reading connects processed flour to stomach fat, which of course happens to most women during menopause. The book Wheat Belly was the first book I read that talked about this issue. All processed food turns into sugar faster, thus contributing to high blood sugar.
Even sugar substitutes are now thought to be at least as damaging as processed white sugar. And our flour, including the 'healthy' grainy stuff, is over 90% genetically modified. Now I am seeing articles that note a connection between diabetes and Alzeimer's.
So what does all this have to do with my eating delicious food in France?
The contrast to our rushing lives in the U.S. was evident as soon as we arrived in Mellecy. We'd met up with friends from Germany and spent the first few days touring the Burgundy area. We stayed at a B&B, which was also a wine merchant's outlet, situated in an old chalet, where our beautiful balcony overlooked sprawling, almost wild-looking gardens.
Meals, even breakfast, were often lingering, with conversations and reminiscing as we relaxed on our balcony, relishing the focus on good food and friendship.
We spent one day in the village of Beaune and another day in Lyon, where we visited the Musee Des Beaux Arts de Lyon. We shared slow, long lunches as we sat outside restaurants, soaking in the culture with our European friends.
The next week took us to a small village called Saint Joroiz, on Lake Annecy, which is surrounded by the Alps. Our vacation apartment, owned by British friends, offered a spectacular view from our bedroom.