Author Bio
You need to tell a bit about who you are, and include any pertinent writing credits, degrees or affiliations. Are you previously published with another publishing house? Have you won any awards that are relevant to this manuscript? Do you belong to a writing organization in the same genre? For example, if you're submitting a romance manuscript, it's relevant to say you belong to the Romance Writers of America (RWA).
On the other hand, you don't need to list everything you've written since second grade, or mention a writing group an agent wouldn't know about. The agent doesn't care about your award winning knitting business, unless the book is about starting your own knitting business. Don't pad this section. One or two sentences to prove you're serious about your writing should be fine.
In my case, I included the facts that I live on the Cape and own a Saint Bernard, because it felt relevant to my story. However, I didn't include the tidbit about my dog in my mermaid book queries.
I live year-round on Cape Cod with my family and big dogs, and yes, one of our dogs is really a Saint Bernard named Midget. My previous publishing credits include two small-press romantic suspense novels: Unfolding the Shadows (Ellora's Cave, 2009) and Perfect Strangers (Moongypsy Press, 2010). Son of a Mermaid is a YA paranormal romance, released May 2013 from Crescent Moon Press and garnering great reviews from readers on Goodreads and Amazon. Blood of a Mermaid will be released in Spring 2014.
Closing
Again, this is a business letter. Thank the reader for their time and consideration. Let them know you took the time to read their submission requirements. The best closing would be "Sincerely" just like in any other business letter.
I've included the full synopsis below, as outlined in your submissions guidelines. Thanks for your time and consideration. I look forward to hearing from you.
Sincerely,
Katie O'Sullivan
(my address)
(my phone number)
If you're sending an email query, expect an email reply. If you're querying by snail mail, you probably have to include a self-addressed stamped envelope (SASE). The current trend is that no reply means a rejection, but sometimes things do get lost in spam filters. Check the agent's guidelines – if she says she'll reply in 2-4 weeks, wait the 4 weeks until you send a polite follow-up inquiry.
And hopefully you'll be hearing back and getting requests for chapters or full manuscripts soon!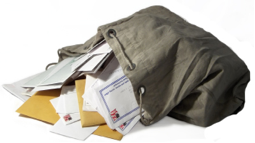 From the Mailbag:
I've been seeing a lot of "grammar jokes" on Facebook about people misusing "Their, There, They're." Is there an easy way to remember which word to use when?
The three "theres" are homophones, words that sound alike but are spelled differently with different meanings. Here's a quick way to think about it:
There is a place. It has "here" as part of the word - definitely a place.
Their means possession. It has "heir" as part of it, another word for owner. Think owner/possession.
They're is a contraction for "they are." There's an apostrophe there for a reason.